Thanks to many of you, we have been holding regular draws for perfume samples, and today we have another generous offer from Bernadette. When Bernadette moved to a new city two years ago, she felt lost and disoriented, and it was thanks to small pleasures like perfume that she was able to weather the initial transition period. She would like to offer her collection of samples to one of you. She also thought that it might be fun if a winner tried the samples, maybe kept 1 or 2 (and possibly added a couple of samples of their own), and then passed the box onto someone else. I thought that it was a terrific idea.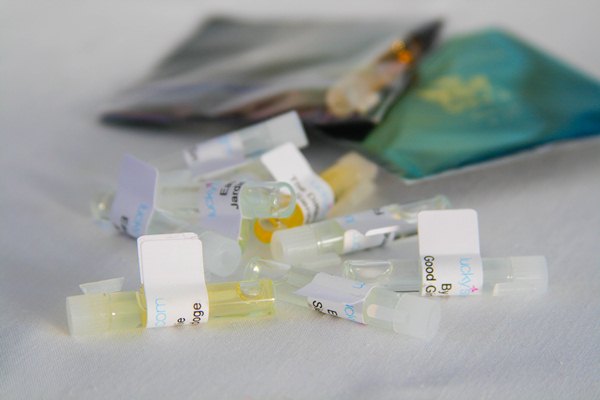 How does it work: Bernadette and I will prepare two packages of samples. Hers will be for a reader in the US, mine–for a reader anywhere else in the world. So, to enter, please answer these questions: 1) where are you located? (US, Europe, Asia, etc., you don't need to include your city or any personal details); 2) do you agree to pass the box onto someone else in your country/region? and 3) how you do go about sampling fragrances–in stores, mail orders, exchanges with friends, etc? The contest is now closed. I will pick two winners via a random number generator, and announce them this week.
When a winner is ready to pass the box onto someone else, they should get in touch with me. Since this is our first attempt to do something like this, please feel free to offer suggestions and your ideas! I think that it will be a lot of fun.
Bernadette's box for a reader in the US (some samples are carded store samples, others are 1ml vials):