If there is one perfume that captures the beauty of jasmine perfectly, it must be Serge Lutens A La Nuit.  It is a great example of the house's ability to create an elegant, refined composition with a sensual edge.  This fragrance starts out as a heady dark jasmine, with a touch of spice to give the dry down some warmth.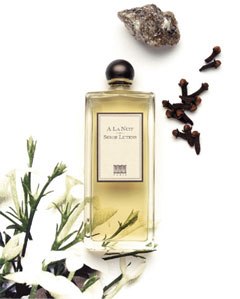 It is more elegant than Creed Jasmal and much richer than Maitre Parfumeur & Gantier Jasmin. I find that applied lightly A La Nuit is vividly recalls the scent of night blooming jasmine. At first it is rich and decadent, an olfactory version of triple chocolate cake. Warm undercurrent of dark vanilla adds depth to the jasmine note. The drydown, however, is a bit of a surprise since it is much lighter and greener than the heart. A jasmine gold standard!
Serge Lutens A La Nuit includes notes of Indian, Egyptian and Moroccan jasmines, green shoots, honey, clove, benzoin and musk.  Jasmine blends really well with woods, especially sandalwood, and I love combing A La Nuit with either Lutens Santal Blanc or Santal de Mysore. Pure high quality sandalwood oil is another great way to add complexity to this composition. Then it truly becomes bois de jasmin, jasmine wood.