Look closely at the Lady with the Unicorn tapestries. Among flowers intertwining around the woman, unicorn and lion, and creating an enchanted atmosphere, tiny dianthus, clove pink, is the most prominent. Likewise, Caron Bellodgia is a fragrance of dreams. It bridges the light and the dark and creates a masterful olfactory chiaroscuro. Bellodgia is a memory of a traveler, capturing the vision of an Italian town on Lake Como, Belladgio. Created in 1927 by Ernest Daltroff, genius perfumer and the founder of Caron, the composition features carnation, jasmine, rose, lily of the valley, violet, sandalwood, vanilla and musk.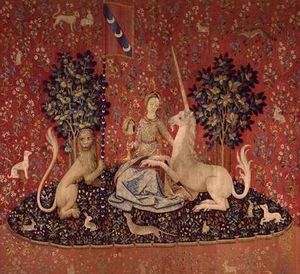 The top notes are of the powdery carnation which gains a slight peppery bite as the fragrance settles. The jasmine, lily of the valley and rose undulate out of carnation accord one after another creating an interesting composition that changes over time, from one note to another and back, like piano bars being hit by an impatient finger. The dry down is an interplay of warm and musky against cool and mossy. The dark Caron undercurrent whispers of dusky cloisters of medieval churches and throws into relief the gentle sweetness flowers, still hot from the midday sun. Bellodgia may seem soft and simple at first, but over time it reveals its sensuality.
I forgot to add that my preferred concentration is the extrait de parfum; the Eau de Parfum is bland in comparison. As Octavian noted in the comments, it was introduced in 1996, after being reformulated and augmented with the green tea notes.
Note on reformulation May 2011: A carnation gold standard, Bellodgia has been made less spicy and dark over time, but it still preserves its petal rainstorm impression. While I miss the original's smoldering spicy darkness, I still enjoy the bright rose-carnation accord in the current version. The parfum is richer and warmer, while the Eau de Toilette has a pleasant green note adorning the spicy floral heart.
Image: The Lady and the Unicorn, "Sight" silk tapestry on wood, end of the 15th century, Musée Moyenage, Paris. Discovered by Prosper Mérimée in 1841 in Boussac castle, the tapestries became famous due to the works by George Sand. The amount of detail on the tapestries, as well as hidden allegory, is breathtaking. I must have spent more than an hour at the tapestry gallery, amazed by the vibrant colors and the delicate expressions on the faces of the lady and the mysterious animals. Interestingly enough, the bottom end of the tapestries, which currently appears dark pink underwent restoration. However, synthetic colors could not match the vibrancy of the vegetal dye used by the Flemish weavers. Over time, the restored part faded, while the original remained vivid.