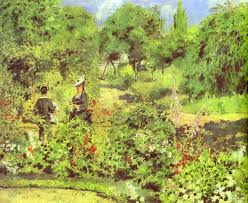 L'Artisan Parfumeur La Chasse aux Papillons is a mist of bright floral notes, underpinned by the coconut sweetness of tuberose.  Created by perfumer Anne Flipo in 1999, it is still the company's top seller. The citrus notes set the stage for the floral adagio dominated by orange blossom. It is an uplifting, cheerful fragrance, and although I have been wearing on and off for several years, it still thrills me whenever I smell it. I cannot sulk wearing La Chasse Aux Papillons, just like I cannot feel blue looking at Pierre-Auguste Renoir's works. Both are full of light and serenity. La Chasse aux Papillons is far from a fragrance masterpiece and it does not last long enough on skin to score full five points, but it is such an effervescent, happy scent that I forgive it its poor tenacity.
In 2005, L'Artisan introduced the eau de parfum version of the original fragrance. The notes La Chasse Aux Papillons Extrême are pink berries, jasmine sambac, tuberose, ylang-ylang, saffron, honey. It is a nice fragrance, but the amplified heft of tuberose makes it far less interesting. While the regular version has a tantalizing balance between opulence and delicacy, La Chasse Aux Papillons Extrême is too heavy to let the original's soft jasmine and orange blossom pas de deux shine. As such, it is not that different from many other tuberose dominated florals on the market.
Painting: Pierre-Auguste Renoir, Garden at Fontenay, 1874. Oil on canvas. Sammlung Oskar Reinhart, Winterthur, Switzerland.