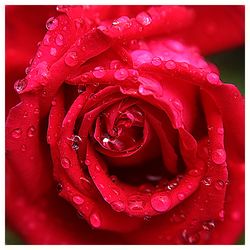 Star rating: 5 stars–outstanding/potential classic, 4 stars–very good, 3 stars–adequate, 2 stars–disappointing, 1 star–poor.
Ormonde Jayne Ta'if is an oriental still life with roses amid Persian sweetmeats and fruit—ripe peaches dripping honeyed juice, opal colored melons, saffron halwah, semolina pastries stuffed with walnuts and dates, orange blossom sherbet.  It straddles the line between gourmand and sensual.  Within its heart, Ta'if hides a delicate spring-like freshness of white flowers, jasmine and orange blossom, with some freesia sweetness.  This airy accord paired with the medicinal note of saffron is exactly what lifts Ta'if out of a sentimental domain of many rose fragrances. Make no mistake, however, this is a rich blend.  A small amount, and it seduces; too much, and you are guaranteed to be a cause of headache for those around you.
Ta'if derives its name from a Saudi Arabian damask rose. Taif is Saudian Arabian town, famous for its cultivation of the oil-rich, 30 petal rose (Rosa x Damascena trigintipetala) since the Ottoman era. Although Taif's harvest is very small in comparison to export oriented plantations in Turkey, Bulgaria, Russia, China, India, Morocco and Iran, the quality of oil is among the very best.
Notes: Pink pepper, saffron and dates; rose oil, freesia, orange flower absolute and jasmine; broom and amber.
Photo: Rosa x Damascena trigintipetala.