If there are smells that have an aura of particular time and place indelibly ingrained in their olfactory image, patchouli is certainly one of them. For many, especially those who grew up in the sixties, it is a smell of headshops, its earthy darkness masking the smell of marijuana. It is a smell that shows up in any blend bearing a reference to India. It is deemed as too earthy, too heavy, too overwhelming, too inappropriate for haute parfumerie. It is a misunderstanding, of course, because patchouli is one of the most unique scents and the basic building block of the many perfumery genres.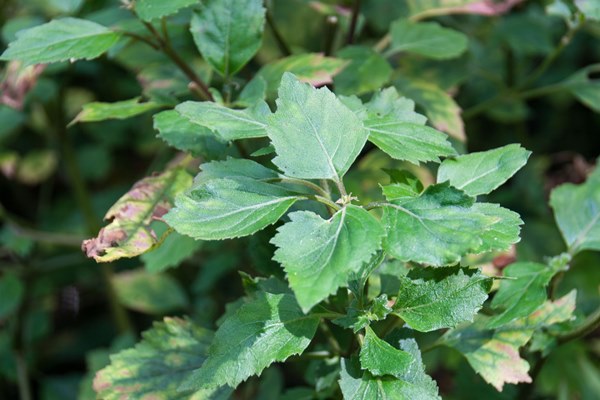 Patchouli (Pogostemon patchouli) is a two-three foot perennial bush with purple flowers, a member of the mint family native to the East and West Indies. The name patchouli originates from a word in Tamil, the southern Indian language, paccilai, which means "green leaf." Leaves contain the oil, which is steam distilled either from fresh or dried leaves.
The scent of patchouli contains the same earthy element that is also present in vetiver, making it a dark and rich scent. It has an interesting structure, comprised of sweet herbaceous top notes, rich winey heart and balsamic woodsy base. The quality of oil will determine whether it will uphold its negative stereotype of musty and mossy or whether it will envelop one in an almost tangible cloud of sweet golden dust. The oil is often aged, which changes its olfactory profile, with a rich fruity note mellowing the spicy dryness. Experiencing a high quality patchouli oil is something a true fragrance lover should undertake, because it is one of the most fascinating essences. It is hardly a conventionally polite and elegant scent, however it is very haunting. The first rush of effervescent sweetness paired with the dark balsamic spiciness is quite memorable.
The usage of patchouli in perfume has been increasing since the 19th century. Recognizing its insect-repellant properties, the traders of silk and cashmere used patchouli leaves to fold inside their wares. Upon receipt of the products in Europe, the scent of patchouli would have permeated the fabric, thus adding an additional layer of allure to the precious and exotic items. Indeed, in the 19th century, patchouli become an integral part of various Indian fabrics made for export, which led producers of unauthentic paisley shawls to layer them with patchouli leaves, thus being able to pass them off as genuine. Empress Eugenie, the wife of Napoleon III was among the first to favour shawls to protect her against chill, without obscuring the beauty of the gowns designed for her by Worth. Soon, patchouli redolent shawls become fashionable in the 19th century France, paralleling the rise of patchouli as a fragrance ingredient.
In perfumery, patchouli is often used a base note in chypre, oriental and powdery fragrances, marrying particularly successfully with sweet floral tartness of bergamot, chilly sweetness of lavender, voluptuousness of rose and smoothness of sandalwood (Morris 1984, 242). In aromatherapy, it is often employed to treat stress and fatigue.
Fragrances dominated by patchouli: Byblos Patchouli, Bond No.9 Nuits de Noho, Caswell-Massey Aura of Patchouli, Dana Tabu, Etro Patchouly, Gobin Daudé parfums Jardins Ottomans, Jalaine Patchouli, Keiko Mecheri Patchoulissme, L'Artisan Parfumeur Voleur de Roses, L'Artisan Patchouli, L'Artisan Fragrances Patchouli Patch, Lorenzo Villoresi Patchouli, Lush Karma, Mazzolari Patchouly, Molinard Les Scenteurs Patchouli, Montale Patchouli Leaves, Santa Maria Novella Patchouli, Serge Lutens Borneo 1834, Thierry Mugler Angel.
Some fragrances containing patchouli: Azzaro Pour Homme, Balenciaga Homme, Bond No. 9 Bleecker Street, Caron French Cancan, Caron Tabac Blond, Chanel Coco Mademoiselle, Christian Dior Dune, Christian Dior Miss Dior, Christian Dior Miss Dior Cherie, Clinique Aromatics Elixir, Coty Chypre, Givenchy Gentleman, Guerlain Jicky, Guerlain L'Instant Pour Homme, Guerlain Quand Vient l'Eté, Jean Patou Câline, Jean Patou Enjoy, Lalique Eau de Lalique, L'Artisan Timbuktu, Maître Parfumeur et Gantier Parfum d'Habit, Miller Harris Terre de Bois, Montale Aoud Lime, Parfums de Nicolaï Maharadhah, Prada, Rochas Lui, Serge Lutens Fumerie Turque, Serge Lutens Muscs Koublaï Khän, Serge Lutens Un Bois Sepia, Thierry Mugler A*Men, Viktor&Rolf Flowerbomb, Yves Saint Laurent Rive Gauche Pour Homme, Yves Saint Laurent Kouros.
References: Morris, Edwin T. 1984. Fragrance: The Story of Perfume from Cleopatra to Chanel. E.T. Morris and Co., New York.