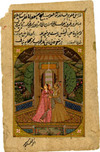 Star rating: 5 stars–outstanding/potential classic, 4 stars–very good, 3 stars–adequate, 2 stars–disappointing, 1 star–poor.
Pierre Montale's creations quench the desires to travel over the temporal and spatial map, inviting one into the Middle Eastern souks and the Mogul palaces.  The tapestries of rose, sandalwood, oud and spices are woven as intricately as Scheherazade's tales.  My favorite fragrances in the line are from the Aoud range, incorporating pungent and medicinal oud.
Aoud Queen Roses is a majestic fragrance of crimson roses veiled by dark earthy richness of oud.  At first, the composition is redolent not so much of a rose, as of a piece of heavy silk permeated with a scent of rose petals.  The silky sensation vanishes as a dry medicinal note of saffron turns rose softness into hot cinders.  The dark shadow of oud fills the composition with intensity and inscrutability, as the dusk fills the room in the evening distorting the outlines of familiar objects. The warm glow of rose is even more sensual and arresting against the dark pungent backdrop.
Before one overindulges into the intoxicating pairing of rose and oud, the composition transforms once again.  Now, it is suddenly dawn, with the first rays of sun turning the horizon burnished orange. The smoke of rose incense escapes through the carved screens, yet the petals remain on the cold marble floors. As the fragrance dries down, Aoud Queen Roses tempers the opulence of its dark rose heart, continuing its beguiling tale of seduction and mystery.
Available at Montale website, Aedes, Parfumsraffy, and First-in-Fragrance.
Painting: A Noble Couple Star Gazing, a Mogul illustration.  rubiyat.com