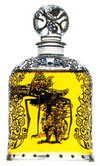 Star rating: 5 stars–outstanding/potential classic, 4 stars–very good, 3 stars–adequate, 2 stars–disappointing, 1 star–poor.
Serge Lutens Borneo 1834 proves once again that the genius of  Serge Lutens and Chris Sheldrake lies in the interpretations of particular notes by exaggerating their qualities and ornamenting them in such a way as to reveal the most unexpected and arresting element. By way of example, the odd camphorous note serving as a prelude for the sensual floral heart of Tubéreuse Criminelle is a note present in tuberose absolute, a hot rubbery darkness that suffuses white floral opulence. Smooth cinnamony sweetness of Cèdre intensified by tuberose recalls a caramelized floral note present in certain types of cedarwood oils, particular Himalayan cedar.
Borneo 1834 takes the sweet winey effervescence of patchouli and layers it with silkiness of chocolate and darkness of resinous woods. The top notes shock like vapors from a glass of rum. The hot wind that stuns senses upon the first inhale whips up a scintillating cloud of patchouli, which settles slowly in swirling patterns—one moment, it is a sweet golden (not earthy) patchouli, the next, it is a dark balsamic resin. The intoxicating warmth is interspersed with sweet incense smoke, which segues into the bitter chocolate. It is not a sweet luscious gourmand note of chocolate that made Angel a success, but a dark mélange of cocoa powder, bits of rubber and rosewood dust. The end result is a composition of remarkable contrasts—weightless darkness, smoky sweetness and eerie sensuality of patchouli.
Borneo 1834 is a newest Salons du Palais Royal exclusive fragrance. Wax samples of this fragrance seem to be more representative of the drydown. However, the best aspect of the fragrance is a fascinating interplay between almost palpable gradations of heat, which are revealed best in the liquid perfume. The notes include Indonesian patchouli, white flowers, cardamom, camphor, cistus, galbanum, cannabis resin, cocoa accord. The name refers to the place and the year marking the period when patchouli first entered the West.
Photo: Borneo 1834 limited edition bottle from Serge Lutens' fan site (thank you, C!).