Star rating: 5 stars–outstanding/potential classic, 4 stars–very good, 3 stars–adequate, 2 stars–disappointing, 1 star–poor.
Since antiquity, the precious oil of sandalwood was sought after not only for its aroma, but also for its calming and restorative properties. Sandalwood would be ground into powders, macerated in oils for cosmetic preparations and made into pastes for incense sticks. Its oil would be co-distilled with various flowers and spices, producing fragrant attars. From the religious ceremonies to the beauty rituals, sandalwood and its scent are indelibly associated with the most intimate and spiritual of traditions in the East. Its rich fragrance envelops like an opulent silk wrap, clinging to the skin and melding with its warmth.
Yet, despite its popularity and uniqueness, sandalwood is a difficult note for the perfumer to employ, as its lack of a bright top note flattens a composition. Sandalwood dominated fragrances tend to be rich and heavy, as Guerlain Samsara with its 45% of sandalwood oil can demonstrate. Less successful compositions simply strike one as dense and opaque. In light of this fact, it is a pleasure to discover two fragrances that highlight the sandalwood without compromising its beauty. Diptyque Tam Dao and 10 Corso Como are often compared, however while they offer interpretations on the sandalwood theme, the results have sufficiently different nuances to consider exploring both fragrances. …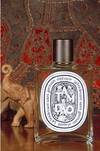 Like Do Son, Tam Dao is an essence of Yves Coueslant's childhood memories. One of three founders of Diptyque, he spent a number of years in Vietnam, and the result are two Southeast Asia inspired compositions. Tam Dao created by Daniel Molière and Fabrice Pellegrin in 2003 is a lovely vignette capturing the rosy fragrance of sandalwood. It ornaments the rich wood with the green note of cypress, which lends a sharp, dry quality to the top accord. Herbaceous, peppery notes spill into the heart of the composition inlaid with the lily-like sweetness of rosewood. Its subtle touch lightens the sandalwood, which forms the base. Only after a couple of hours can one experience the full effect of the luxurious, yet dry sandalwood that makes Tam Dao stand out among the scores of fragrances attempting to capture the beauty of this precious wood.
In contrast to the dryness of Tam Dao, 10 Corso Como is sensual and voluptuous like the carved dancers of Indian temples. It was created by perfumer Olivier Gillotin. Where Tam Dao is a burst of resinous notes, 10 Corso Como swirls like incense smoke over red rose petals. Olivier Gillotin, the perfumer behind the fragrance, rendered the sandalwood as smooth and creamy, with an interesting complexity attained by weaving a note of incense through the silky richness of the composition. While the bright note of frankincense disappears into the warmth of the base, like raindrops evaporating under the sun, its resinous tonality colors the arrangement, making the sandalwood and oud accord of the base more vivid and multifaceted. Perfectly balanced between the resinous woody elements, the dark rosy sweetness and the ethereal smokiness, 10 Corso Como is a sandalwood scent that fills my romantic vision of Indian palaces.
Either fragrance would be a perfect choice for a man or a woman who likes woody fragrances. Fans of Costes might appreciate 10 Corso Como in particularly, given its rose and incense over sandalwood composition. Dryness of Tam Dao has a more bracing, rejuvenating effect than the mellifluous whisper of 10 Corso Como. While both have a good tenacity on my skin, 10 Corso Como lingers longer like a soft calming breeze that always seems to be around.
Mughal miniature painting: Shringar, from exoticindiaart.com (click on the image to see the fascinating detail). Tam Dao ad from Diptyque website. Orissi Rajarani Temple sculpture from olywa.net.