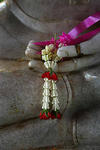 Star rating: 5 stars–outstanding/potential classic, 4 stars–very good, 3 stars–adequate, 2 stars–disappointing, 1 star–poor.
Based on the concept of travel through Asia, the newest release from Kenzo, KenzoAmour, seems far too delicate and fragile to take one on a whirlwind ride. Instead, the comforting sensation it conjures makes me lose the desire to embark on a long journey. The fragrance was created by Daphné Bugey (Le Labo Bergamote 22, Rose 31, Neroli 36), who chose the notes and Olivier Cresp (Paco Rabanne Black XS), who formulated the perfume. While the resulting composition is not strikingly original, it has enough character to maintain interest. …
The incense and pepper tinged vanilla dominates the fragrance, harmoniously intertwining with the sheer floral notes. The transparency allows a glimpse of the base through the top notes, although the warm accent of heliotrope lends a matte effect to the arrangement. The sweet powdery accord displays a link between Kenzo Amour and Flower by Kenzo, a masterful creation by perfumer Alberto Morillas that serves as a great example of his talent in exploring harmonies among perfume notes.
Kenzo Amour succumbs neither to blandness nor to overt sweetness, and when one expects the vanilla to fall into the predictable embrace of musk, the woody notes offer an interesting twist. I admit that my affection for Kenzo Amour was not immediate, but as I have been wearing it over the past week, I have found the subtlety of its delicately rendered accords allied with a suggestion of sensual warmth to be quite appealing. Though it has not taken me on the Orient Express, in speaking softly, Kenzo Amour has charmed me with its caressing touch. Being along the lines of Donna Karan Cashmere Mist and People of the Labyrinth Luctor et Emergo, it is a good example of a warm, comforting scent.
KenzoAmour features top notes of cherry blossom, rice and white tea; heart notes of frangipani and heliotrope, and base notes of thanaka wood, vanilla and musk. It is going to be introduced worldwide in September; in the US, the distribution will initially be limited to Nordstrom. The samples are already available from the store.
Photo: Offering to Buddha. Wat-Prathat-Doi-Suthep, Buddhist temple near Chiang Mai – Thailand.