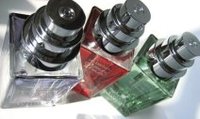 Star rating: 5 stars–outstanding/potential classic, 4 stars–very good, 3 stars–adequate, 2 stars–disappointing, 1 star–poor.
The garden inspired trio from The Different Company–Un parfum d'ailleurs et fleurs, Un parfum des sens et bois, and Un parfum de charme et feuilles—promised to be airy and subtle. I was envisioning fragrances that combined the light and elegant touch of Celine Ellena as exemplified by Sel de Vetiver and the spicy indolic radiance of Jasmin de Nuit. In many ways, my expectations were fulfilled as the fragrances do recall the refined quality of the preceding compositions without being overly delicate. At the same time, the more assertive touches are rendered as far too sharp against the more tame accords. While some of the scents are pretty, on the whole, they feel neither memorable nor original. At most, they come across as interesting ideas, rather than finished arrangements. …
Un parfum d'ailleurs et fleurs (red bottle) is based on the combination of jasmine, animalic and incense redolent notes. The initial orange blossom softness is framed in transparent spices, the heat of which slowly fade into the warm animalic embrace. Like the musky scent of Indian jasmine incense, the drydown seems to retain sweetness as well as a touch of pleasing smokiness. Yet, a hint of unctuous, oily warmth gave the composition a quality that reminded me of a bar of soap. Interesting, but in the end, full of discordant elements that did not quite work as well as I would have liked.
Un parfum des sens et bois (mauve bottle) is reminiscent of the spicy-woody idea that was explored in Cartier Déclaration (and to a lesser extent, L'Artisan Navegar). Cedarwood is the predominant element, accented with peppery and bitter citrusy notes. The composition starts out as sharp and dry and over the course of time it gains a velvety amber facet. Un parfum des sens et bois is the most elegant and the most harmonious out of the trio; however, it feels far too delicate to be striking. I found myself wishing for the spicier, richer layering, and for a depth and complexity that this composition could have had.
Un parfum de charme et feuilles (green bottle) was the most challenging for me to appreciate. The jarring woody-lemony top note was rendered as warm and soapy, reminding me of passing through the Ivory soap stacks at the supermarket. The herbal notes ornamented with indolic floral sweetness did not help matters much. The fragrance kept eliciting associations with cleaning products due to its herbal sharpness and somewhat oily sweetness and unfortunately, these were only images that stayed in my mind.
Un parfum d'ailleurs et fleurs (red bottle) includes notes of neroli, tangerine, tuberose, elder flowers, star anise, musk, plum and hazel tree blossom. Un parfum des sens et bois (mauvebottle) contains notes of white violet, cedar, pepper, ginger, elemi, patchouli and incense. Un parfum de charme et feuilles (green bottle) features marjoram, peppermint, jasmine sambac, sage and clementine (notes information via Nowsmellthis). Available directly from The Different Company and Beautyhabit.