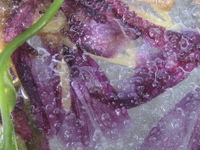 Star rating: 5 stars–outstanding/potential classic, 4 stars–very good, 3 stars–adequate, 2 stars–disappointing, 1 star–poor.
Serge Lutens Iris Silver Mist is iris to the power of 10. Despite its raw strength it manages to convey the ethereal softness and exquisite silkiness that make iris one of the most prized materials in perfumery. Although Iris Silver Mist is not a classical Serge Lutens oriental like Ambre Sultan, Chergui or Fumerie Turque, it has the distinctive aura and unconventional construction of other fragrances from the line.
Orris butter has a powdery quality reminiscent of violets covered with chalk dust, but Iris Silver Mist manages to preserve an amazing clarity. It opens up on a sharp, vegetal note of galbanum that calls to mind sliced green peppers. Its vibrancy is underscored by an earthy pungency, which like a flash of chili on the tongue serves as a piquant accent. The voluptuous beauty of iris unfolds in the heart of the composition, foiled by rich woods and sheer amber. Although Iris Silver Mist begins with thunder, it takes a turn towards graceful softness. Now reminiscent of the melancholy beauty of Guerlain Après l'Ondée, the composition clings to the skin like silk; its smooth, cold surface hiding a suggestion of sensual warmth.
Iris Silver Mist was created by Maurice Roucel, a perfumer with an impressive portfolio of fragrances. Iris Silver Mist possesses the elegance of other Roucel compositions and above all it is marked by the same radiance that makes his work fascinating. This radiance lights up the form of Tocade's ambery rose, of Musc Ravageur's dark embrace and of the metallic edginess explored in Gucci Envy. Iris Silver Mist has always been one of my favorite Roucel compositions because of its unusual combination of elegance and assertive character. Whether one likes it or not, it is difficult to remain indifferent to this fragrance.
It is not a perfume with universal appeal, as it does not attempt to soften the vegetal chill of iris root as has been done in either the floral sweetness of The Different Company Bois d'Iris or the ladylike elegance of Frédéric Malle Iris Poudre. Embellishments, in fact, are unnecessary, for Iris Silver Mist does not attempt to be coy—it is striking and beautiful.
Iris Silver Mist includes notes of iris, clove, cedarwood, sandalwood, vetiver, white amber, labdanum, musks, benzoin, incense. It is available from Les Salons du Palais Royal.
Beautiful photo of Icy Flowers from Knitagarden.