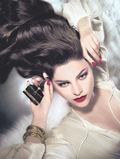 Star rating: 5 stars–outstanding/potential classic, 4 stars–very good, 3 stars–adequate, 2 stars–disappointing, 1 star–poor.
The promise of beguiling black orchid scent, the suggestion of classical glamour, the retro advertisement reminiscent of George Hurrell's famous shot of Veronica Lake–and Tom Ford's solo debut, Black Orchid became my most anticipated 2006 launch. When I finally held the gorgeous black glass bottle in my hand and sprayed the perfume on my skin, I envisioned something along the lines of Rochas Femme, the radiant sweetness wrapped into the rich animalic warmth. …
Black Orchid certainly weaves some retro elements into its composition, yet it remains a modern oriental, where the animalic growl is replaced by the murmur of luscious woody vanilla. The best features of Black Orchid are revealed upfront—the promised seductive darkness of patchouli and the savory earthiness of truffle shimmer through the sheer citrusy top notes. An indolic whisper of white flowers lends its characteristic narcotic breath. It is the femme fatale entrance—one may not be attracted to what one sees, but one cannot but notice it.
After the initial sizzling impression, Black Orchid slowly begins to settle into the spicy floral underpinned by the base of woods and vanilla. Givaudan's Roman Kaiser, the expert both on orchids and headspace technology, did in fact capture the elusive scent of black orchid which was especially bred for Tom Ford. The spicy carnation like warmth rises up before Black Orchid finally settles in its sandalwood rich oriental base.
Although this might seem unlikely, but as Black Orchid develops, it reminds me of Ralph Lauren's Ralph Hot, a fragrance by perfumer Pierre Negrin. I would hasten to add that the main overlap is in the layering of sensations, rather in the specific olfactive impressions, although both fragrances fall into the woody oriental family. Much like Black Orchid, Ralph Hot contrasts its rich woody and vanilla notes with the crisp freshness that is threaded delicately through the arrangement. What could have been a dense and heavy composition instead is rendered as radiant and soaring.
Black Orchid is certainly a beautiful fragrance, fulfilling all of its promises of seduction and intrigue. Yet, as I have been wearing the Eau de Parfum almost every day for the past week, I found myself wishing that its initial effervescent and daring impression was preserved rather than flattened by the woods and vanilla. Nevertheless, its charm is difficult to resist, and perhaps it is the reason I keep reaching for my bottle to smell the perfume again and again.
Black Orchid was created for Tom Ford by the perfumers of Givaudan. It includes the top notes of French jasmine, black gardenia, ylang ylang, bergamot, mandarin and effervescent citrus; a heart notes of Tom Ford black orchid, spicy floral orchid accords and lotus wood, and a drydown of patchouli, incense, amber, sandalwood and vanilla. It is currently available at Neiman Marcus. For another opinion please see the review by Robin of Now Smell This.
Some other fragrance created under Tom Ford's creative direction: Yves Saint Laurent Nu, M7, Rive Gauche Pour Homme; Gucci Eau de Parfum, Pour Homme, Rush, Envy; Estée Lauder Youth Dew Amber Nude, Azurée oil spray.