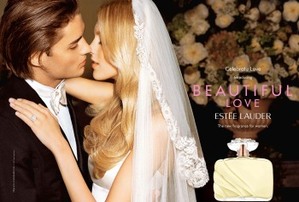 Star rating: 5 stars–outstanding/potential classic, 4 stars–very good, 3 stars–adequate, 2 stars–disappointing, 1 star–poor.
Though I normally look at flankers with disdain expecting yet another bland variation, the sequels to the classical Estée Lauder fragrances have been quite lovely. Youth Dew Amber Nude offered an interesting twist on the oriental ambery theme of the original Youth Dew. Pure White Linen is a crisp, musky veil, in contrast to the richer 1978 classic, White Linen. Beautiful Love is a modern take on Beautiful, a lush white floral underpinned by woods and iris.
Beautiful Love opens with a verdant, crisp accord. It has immediate appeal, though the top notes are miles away from fresh and delicate. They explode and retain amazing intensity. The floral heart is all about the white petal brushing against the skin—soft, cool and airy. The crisp and fresh quality does not dissipate even in the drydown, which like that of Beautiful is marked by sweet musky woods and iris. The lack of animalic effects lends Beautiful Love the same well-scrubbed and wholesome quality possessed by the original Beautiful.
In the tradition of most Estée Lauder flankers, Beautiful Love does not venture outside the familiar domain. The crisp and bright floral theme of the composition recalls fragrances like Estée Lauder Pleasures, Marc Jacobs for Her and Ralph Lauren Blue that seem to be quite popular in the American market. It is also more lighthearted in character than the original Beautiful, lacking its assertiveness. At a time when flankers tend to end up as diluted and cheapened versions of the successful original, it is a pleasant surprise to discover deviations from this trend. Not surprisingly, it is one of the reasons why many Lauder flankers have found commercial success.
Another company that offers interesting flankers is Kenzo. Kenzo Flower Oriental, perfumer Alberto Morillas's take on his original creation, Flower, and KenzoAir Intense, Maurice Roucel's richer version of KenzoAir are excellent.
I should note that Beautiful Love is not the first Beautiful flanker. Beautiful Sheer, Beautiful Summer Bouquet and Beautiful in Bloom have seen the light of day previously. Beautiful Love features notes of pomelo, cantaloupe, mango mist, white freesia, magnolia, marigold, ivy leaves and pink pepper; Tahitian tiare, tuberose, jasmin absolute, jasmin Sambac, rose, osmanthus, carnation and black violet; white orris, vetiver, Cashmeran, heliotrope, tonka bean, whipped cream accord, sandalwood, white moss and patchouli. Estée Lauder fragrances are available directly from Estée Lauder as well as at Neiman Marcus, Bergdoft Goodman, Nordstrom and Saks Fifth Avenue.
Beautiful Love advertising from Basenotes.