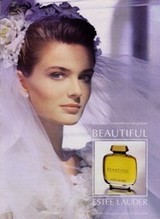 Star rating: 5 stars–outstanding/potential classic, 4 stars–very good, 3 stars–adequate, 2 stars–disappointing, 1 star–poor.
It would not be an overstatement to say that Estée Lauder changed the face of American perfumery and revolutionized the way women treat fragrance. With Youth Dew, which was cleverly introduced as a bath oil, she managed to break the age-old stereotype of perfume as a gift from a man. With her subsequent fragrances, she enshrined American perfumery as a rival to be noticed. Created in 1985, Beautiful still remains a strong symbol of Lauder's vision. …
In a way, Beautiful was Estée Lauder's take on the great French classic, Chanel No 19. If the No 19 woman has a poised demeanor and somewhat aloof beauty, the woman who wears Beautiful is a girl next door type, albeit one who would not shun a dose of glamour. Like No 19, Beautiful oscillates between a green floral and a chypre, combining the elements of both. While the floral heart of No 19 has a delicate subtlety, Beautiful is lush and voluptuous.
Its Amazonian beauty makes Beautiful quite a head turner, but before it manages to grow oppressively strong, the woody chypre accord reigns it in. The richness of the base is augmented by classical oriental notes such as sandalwood, incense, and vanilla. Absent are the animalic hints and the sensual whispers. Beautiful has a wholesome character. It hugs you without an attempt to seduce.
I came to know American perfumery intimately only about 10 years ago, but I cannot but admire Lauder and the fragrances that were created under her direction. There is coherence and unity in the fragrance line. All of the classical Lauder creations answer to Lauder's logic, rather than to some principles of market research. Indeed, Beautiful is a Lauder to its core—it has a strong sillage, distinctive character, and unmistakable signature. Lauder knew that women wanted a fragrance that lasts and lasts, and tenacity is one of the main attributes of Estée Lauder's fragrances, even if it is achieved at the expense of subtlety. Even if Beautiful is not quite au courant (it has a distinct 80s flavor), it is an American classic. "Beauty is an attitude," Lauder was known to say. "There's no secret. Why are all brides beautiful? Because on their wedding day they care about how they look. There are no ugly women – only women who don't care or who don't believe they are attractive."
Beautiful includes notes of mandarin, lily, marigold, rose, tuberose, carnation, jasmine, lily of the valley, orange blossom, ylang-ylang, clary sage, thyme, iris, myrrh, sandalwood, vetiver, oakmoss, labdanum, frankincense, tonka bean, vanilla. Estée Lauder fragrances are available directly from Estée Lauder as well as at Neiman Marcus, Bergdoft Goodman, Nordstrom and Saks Fifth Avenue.
Tomorrow: Beautiful Love, a modern take on Beautiful.
Beautiful advertising from Parfum de Pub.