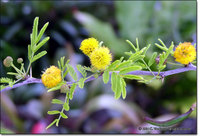 Star rating: 5 stars–outstanding/potential classic, 4 stars–very good, 3 stars–adequate, 2 stars–disappointing, 1 star–poor.
Frédéric Malle Une Fleur de Cassie inspires a comparison with espresso–the initial bitterness serves as a prelude for the caramelized and nutty undertones. Similarly, the dark powdery opening of Une Fleur de Cassie hides the warmth of violets and rose wrapped in mimosa. The fragrance also has an odd wet paper note before it takes an unexpected twist into the almond and violet. It's an acquired taste, but once I acquired it, I fell in love with Une Fleur de Cassie's juxtaposition of accords and tonalities.
Created by perfumer Dominique Ropion, Une Fleur de Cassie is a great example of his talent for working with floral notes. He layers the contrasting effects of sweetness, green sharpness and animalic pungency on the aldehydic floral outline. The result has the elegance of a classical aldehydic bouquet tempered by mineral notes. The woody base is smooth and polished, a necklace of Indian sandalwood beads.
The cassie in the name refers to the warm and powdery fragrance of cassie flowers (Acacia farnesiana), their spicy cinnamon facets underscored by balsamic undertones. Ropion augments the alluring sweetness of the composition with mimosa (Acacia decurrens) which is one of the main notes in Une Fleur de Cassie responsible for the leather overlay as well as the woody-floral and honeyed character. Yet, in a way, taking apart this elegantly harmonious composition note by note does not do it justice. Nor is it particularly necessary once you lose yourself in the beauty that it conjures.
Une Fleur de Cassie features notes of bergamot, rose, violet, aldehydes, cassie, mimosa, jasmine, clove, cedarwood, sandalwood, musk. Editions de Parfums fragrances are available from Frédéric Malle boutiques, Barneys New York and Frédéric Malle Editions de Parfums website.