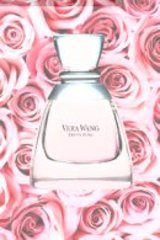 Star rating: 5 stars–outstanding/potential classic, 4 stars–very good, 3 stars–adequate, 2 stars–disappointing, 1 star–poor.
I made no secret of finding Vera Wang Princess not only puerile, but also unexciting. In this light, Truly Pink is a much more elegant composition—sheer, pretty rose on a woody base. It fully lives up to its name, conjuring visions of pink tulle and satin slippers. …
It is difficult to speak of Truly Pink in terms of the top, middle and base notes because the composition is structured in a modern monolithic manner. What you get initially is pretty much what you will discover half an hour later. I do not mean it as a criticism per se, since many of modern fragrances are build in a similar fashion and often with very interesting results. However, the challenge then is how to make the arrangement multifaceted and nuanced.
Indeed, the lack of nuance is the main problem with Truly Pink. The translucent rose asserts itself without delay, unfolding as a fresh, crisp blossom. Tart fruity notes provide pleasant counterpoints to the floral accord. Like a pleasant but vacuous pop tune, Truly Pink grows more and more grating the longer one is exposed to it. While pretty, the fragrance is unfortunately very predictable.
Truly Pink has a fairly good tenacity, albeit the sillage is not particularly distinctive. The notes include white freesia, cassis, lychee blossom, peony, pink rose accord, creamy woods, iris and violet wood.