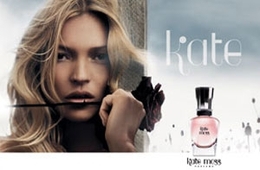 Star rating: 5 stars–outstanding/potential classic, 4 stars–very good, 3 stars–adequate, 2 stars–disappointing, 1 star–poor.
Kate Moss is a personality that stands out in the sleek and gorgeous model milieu. She was the embodiment of the 1990s and its minimalism. She was the face of Calvin Klein. She took on Chanel as the Coco Mademoiselle cover girl. She had her share of controversies and successes. Her style is the most imitated of all models (and it can now be purchased at Barneys under her new clothing label). For those aspiring to more, there is now a fragrance by Moss, simply called Kate.
In various interviews, Moss has mentioned Penhaligon's Bluebell and Guerlain's L'Heure Bleue as her favorite fragrances, and one can imagine how she would be able to enjoy their different personalities—from Bluebell's green sharpness to L'Heure Bleue's enveloping warmth, from springtime flowers to the lush blooms of late summer. At the same time, Kate the perfume bears not a hint of inspiration from either one of these fragrances. Rather, it looks to the floral musks of the last few years such as J.Lo Glow and Sarah Jessica Parker Lovely. The musky body is livened up by the tea rose.
The shower clean freshness of Kate is at odds not only with my personal expectations, but also with the marketing visuals, which present Kate walking through fields of black roses and thistles. I would instead associate the fragrance with a laundry advertisement—sheets billowing in a sun-lit garden; a girl running through green grass, being chased by cute golden retriever puppies… The pretty ubiquity of the composition simply does not add up to Kate Moss's image, neither to the polished one of a model, nor to the rock-n-roll edginess of celebrity writ large.
The Kate Moss fragrance includes notes of orange blossom absolute, forget-me-not, pink pepper, lily of the valley, heliotrope, magnolia, peony, rose, patchouli, sandalwood, musk, vetiver and ambrette. Kate is already available in the UK, while the US launch is not taking place until next year.