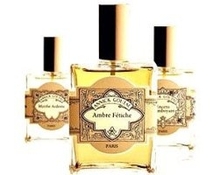 The deeper I delve into perfumery, the more often I pose the question, "why perfume?" to myself. Why do I write about perfume? Why is it that exploring this subject never fails to be exciting and fascinating? Perhaps, it is because scents provide a way to experience the world in a manner that cannot be replicated with any of our other senses. Recently, an illustration of this appeared in the guise of Annick Goutal Les Orientalistes, a trio of fragrances inspired by the classical oriental notes—amber (Ambre Fétiche,) myrrh (Myrrhe Ardente) and frankincense (Encens Flamboyant.) They offered me an inspiration to dream.
Smelling Ambre Fétiche, I was taken into the Orthodox cathedral during high mass. Encens Flamboyant made me think of Gogol's haunted village churches, while Myrrhe Ardente suggested a glimpse of a resplendent ballroom from the old Russia of my imagination. Without me noticing it, I was pulled under the spell of these scents and plunged into a daydream which I could resume by merely pushing on the spray nozzle. Everything fell into place, and I thought that little was needed for happiness. I stopped posing rhetorical questions to myself…
Although as a rule collections usually have their stars and weak links, Les Orientalistes trio is exceptional in this regard. All three fragrances are beautifully constructed in a neo-classical style, possessing luminosity, complexity and exceptional quality of ingredients. Their classical themes are presented in a streamlined, minimalist manner, which strikes me as rather modern. For instance, an interesting pyrazine note reminiscent of toasted bread is a perfect counterpoint to the darkness of Ambre Fétiche.  The balance among spices, woods and ambers renders the overall aura transparent and layered, rather than dense and opaque, as the effect would be in some traditional amber accords.
Unexpectedly airy and soaring, Encens Flamboyant is likewise a modern incense rendition. A burnt incense note is contrasted with the peppery brightness of fresh frankincense. The fir balsam infuses the composition with the delicious resinous scent of evergreen branches. It is a dry and relatively uncomplicated fragrance, but the result is nuanced and compelling.
Although I have a difficult time picking favorites, if I had to make a decision, Myrrhe Ardente would be my first choice. It exemplifies the opulence that can be found in Guy Robert's fragrances like Dioressence and in old Guerlains. The transparent top notes are set against a baroque woody-balsamic accord, and this delicate balance is what sustains my fascination with the fragrance. As Myrrhe Ardente develops, neither the alluring softness of the composition nor its sensual warmth are compromised. Wearing this beautiful vignette of amber and woods, I feel like Natasha Rostova about to enter the gilded ballroom for her first dance—with all of its concomitant excitement, vibrancy, and readiness to fall in love.
Ambre Fétiche includes notes of frankincense, labdanum, styrax, benzoin, iris, vanilla and leather. Myrrhe Ardente — myrrh essence and myrrh resinoid, guaiac wood, tonka bean and benzoin, beeswax. Encens Flamboyant — frankincense essence and resinoid, "vieille église" frankincense, black and pink pepper, cardamom, nutmeg, fir balsam, and lentisque. Annick Goutal Les Orientalistes are available from Annick Goutal stores and Aedes. Bergdorf Goodman will also carry the collection.