To start my fragrant garden series, I would like to write about one of my favorite scented plants, tuberose. Its fragrance of jasmine, coconut and warm skin is one of the most intoxicating and addictive, while its tall stalks densely adorned with lily-like white flowers are graceful and beautiful. As it happens to be, tuberose is fairly easy to grow either indoors or outside, if you have a nice sunny spot. After all, tuberose is a tropical plant, and as much as it will adapt to its new surroundings, it will always crave the sun. If the plant can be given at least 5-6 hours of constant sunlight a day, it will reward the gardener with the most luscious and opulent of scents.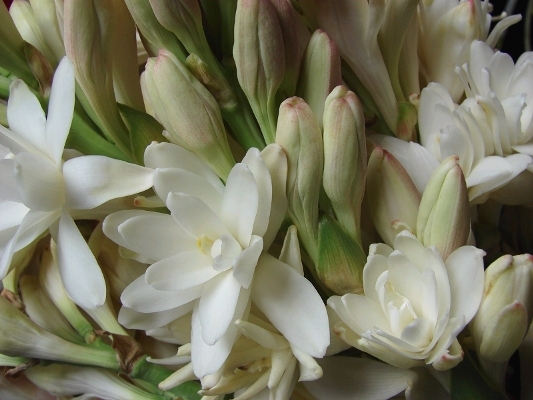 Speaking from my own experience growing tuberose from bulbs indoors, I find the plant to be an easy one to nurture. Sunlight, well-drained soil, regular watering and fertilizer is all it takes! Sunlight can be easily faked with a plant light (I have a tall one that looks like a standing lamp, and I find that in the winter I love its soft light as much as my plants do.) Alternatively, find a spot in your house that receives plenty of sun.
Plant the bulbs with 2-3″ of soil above the top and space them about 8-10″ apart. Water generously right after planting to soak the bulbs. Almost any commercially available potting soils will suit tuberose, as long as they do not retain water. In other words, do not let tuberose bulbs be waterlogged or else they are sure to rot. Overwatering is perhaps the main danger when growing tuberose indoors, so make sure that your pot has good drainage holes. Tuberose is one of those plants that really appreciate fertilizer, therefore once the plant starts sprouting leaves and bloom stalks, feed your tuberose on regular basis (most gardening books recommend 8-8-8 fertilizer types for tuberose; I used Miracle-Gro with good results.)
Once the bloom stalks form (usually 90-120 days after planting), prepare some sort of support for them, as they can be quite heavy when studded with their thickly-petalled flowers. The opulent fragrance of tuberose is obvious throughout the day, but it is fully revealed in the evening, as the darkness falls. No wonder that young girls in India were encouraged not to smell tuberose after the sundown, lest its sensual, addictive aroma encourage lascivious thoughts. You can always pick a few flowers and float them in a bowl of water in order to delicately scent your rooms in the evening, if a whole blooming plant is too much for you.
If you are growing tuberose in your garden, consider planting it next to fragrant roses. The combination of fruity-citrusy rose and narcotic tuberose makes the most gorgeous orchestration, the likes of which are nearly impossible to find in a perfume bottle.
I had good luck purchasing tuberose bulbs from Easy to Grow Bulbs. They ship bulbs March through June, the best time to start planting your flowers. I planted my bulbs for this year only just recently, so I will update this article with photos of tuberose in various growth stages.
To read about tuberose uses in perfumery and various fragrances containing tuberose, please see my Note of the Week series, Tuberose.
Image: Double Flowering Tuberose, Rajanigandha 'The Pearl' courtesy of Forest & Kim Starr from Dave's Garden.