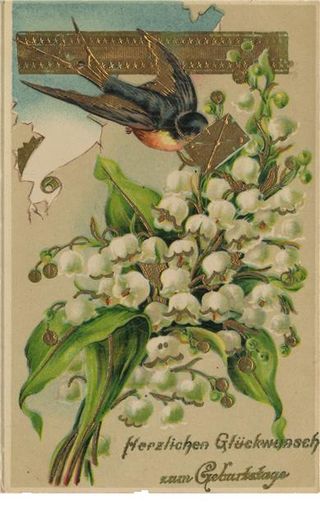 Happy May Day! In France, May Day is associated with the lily of the valley (muguet in French), a symbol of purity and a reminder of spring. If I were about to spend 9h on the plane, I would wear Christian Dior Diorissimo, the most perfect lily of the valley fragrance. Or perhaps, vintage Coty Muguet des Bois. Nonetheless, I would like to mention a few of the lily of the valley related articles on Bois de Jasmin as well as to offer a list of more than 40 fragrances dominated by that note.
Spring Flower Bouquet ~ Lily of the Valley discusses some of the most quintessential lily of the valley fragrances and offers several suggestions, from classical to modern. It includes links to lily of the valley fragrance reviews.
Lily of the Valley Fragrances:
I marked with an asterisk some of my favorites
Amouage Silver Crystal
Annick Goutal Le Muguet*
Avon Always
Calvin Klein Eternity Summer
Carolina Herrera Flore*
Caron Muguet du Bonheur *
Christian Dior Diorissimo*
Christian Dior Lily Dior
Christian Dior Remember Me
Comme des Garcons Leaves Series Lily*
Coty Muguet des Bois*
Crabtree & Evelyn Lily of the Valley
Elizabeth Arden Eau Fraiche
Elizabeth Arden Pretty Elizabeth
Etat Libre d'Orange Don't Get Me Wrong Baby
Floris Lily of the Valley
Guerlain Aqua Allegoria Lilia Bella
Guerlain Muguet*
Jessica McClintock Jessica McClintock
Jessica McClintock New Victorian
Matthew Williamson Collection Warm Sands*
Molinard Muguet
Morgane Le Fay Morgane Le Fay
Penhaligon's Lily of the Valley
Rosine Le Muguet de Rosine*
Santa Maria Novella Mughetto
Santa Maria Novella Colonia Muschio
Serge Lutens Clair de Musc
Slatkin Muguet
Taylor of London Lily of the Valley
Woods of Windsor Lily of the Valley* (esp. soaps)
Yardley Lily of the Valley
Yves Rocher Wild Muguet* (accessory line)
Image: a scan of German vintage postcard (I cannot make out the year on the back,) it is a Happy Birthday card, but I love its innocence and sunny optimism so much that I decided to share it anyway.