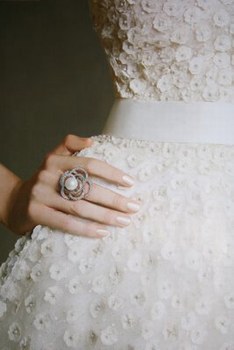 Star rating: 5 stars–outstanding/potential classic, 4 stars–very good, 3 stars–adequate, 2 stars–disappointing, 1 star–poor.
A few years ago I had a revelation about Coco Chanel. Sure, I had read several books about her and her fashion contributions, but it was only at the Chanel exhibit at the Costume Institute of the Metropolitan Museum of Art that I began to understand her ability to reinterpret shapes and structures, to appreciate her novel construction techniques and spectacular use of seemingly muted colors like white, black, ivory, grey… And of course, beige! …
Seeing the folds of beige fabric form everything from a tailored cardigan jacket of wool boucle to the deliciously decadent splendor of a ball gown opened my eyes to the warm, elegant and sensual effect of this color. The allure of this shade was not lost on Chanel who commissioned an eponymous scent in the 1930s, along with Rouge and Bleu. Launched in 1940, they were meant to embody the tricolor of the French flag and evoke the colors of Chanel's last pre-war collection. In 2008, the house of Chanel unveiled a new version of Beige as a tribute to Chanel's statement—"I take refuge in beige because it's natural."
What scent could be the color beige? To me, it could smell of soft kid leather, wool yarn, almonds, vanilla, white peppercorns, mirabelle brandy, and angelica roots. But also, as Chanel Beige made me realize, of gardenia petals and honey, of indolic notes present in flowers and products of decay.
The drops at the bottom of my vintage Chanel Beige flacon reveal a fragrance rich in orris, indole and ambery notes, warm and almost fur-like. The new Beige is a lavish floral bouquet that spills into frothy layers of jasmine, gardenia, rose and frangipani. The luscious white floral notes are rendered effervescent and airy by the aldehydes, which also serve to temper the characteristic white floral sweetness. Accented by spicy-warm anisic notes, the floral accord gently cascades into the sweet orris base, resulting in one of the most gorgeous effects I have recently experienced. As the fragrance dries down and melds into the skin, it becomes velvety and soft, almost blending the line between olfactive and tactile perceptions. The only downside to Beige is that the late drydown is a touch less spectacular. The sensation of warmth on the skin peters out leaving the powdery almond sweetness (heliotropine, vanilla, musk) to take center stage. Yet, this happens several hours into the wear, giving Beige enough time to enchant.
Chanel Beige includes notes of hawthorn, freesia and frangipani, and honey. It is part of Les Exclusifs collection that also includes No 22, Gardénia, Cuir de Russie, Bois des Iles, 28 La Pausa, 31, rue Cambon, No 18, Coromandel, Bel Respiro, Eau de Cologne and Sycomore. It is available in the Eau de Toilette concentration from the Chanel boutiques and Bergdorf Goodman.
For those curious about other vintage Chanel fragrance from the 1940 series, I can offer some brief observations based on the contents of my vintage bottles. Chanel Rouge is a violet-rose composition on a wet-woody base, while Chanel Bleu is violet and hyacinth with a strong sandalwood note. Taking into account the deterioration of scent with time, the original Beige is still the most interesting of the three given its contrasting layering of accords. At the same time, I hope that Chanel will eventually reveal Jacques Polge's interpretation of Rouge and Bleu which could be a great experience.