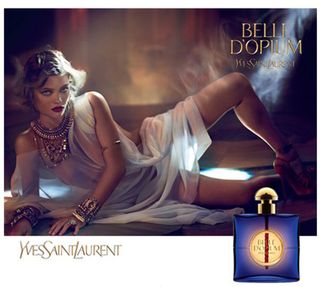 Star rating: 5 stars–outstanding/potential classic, 4 stars–very good, 3 stars–adequate, 2 stars–disappointing, 1 star–poor.
The creativity of the marketing campaign for Yves Saint Laurent Belle d'Opium dramatically contrasts with the banality of the fragrance. If it had even a touch of the originality and mystery possessed by the visuals, in which actress Mélanie Thierry interprets the dance of Salomé, Belle d'Opium would have been much more interesting. Instead, the fresh fruity accord underpinned by the patchouli-cotton candy notes suggests nothing more than a softer amber-oriental take on Chanel Coco Mademoiselle.
Belle d'Opium was created by Alberto Morillas and Honorine Blanc-Hattab for Yves Saint Laurent as a new youthful, modern take on the grand dame Opium. Granted, the reformulated version of Opium is so removed from the spicy and dramatic original– IFRA restricts the use of various materials that are integral to its structure—that I would very much anticipate a new Opium interpretation. After all, the woody-oriental theme has been explored in some interesting ways lately, both in niche and prestige launches.
As one might expect from a fragrance created by such talented perfumers, Belle d'Opium is a very competent, well-balanced fragrance. Every accord comprising its structure is appealing. The fruity-citrusy prelude is a nice blend of creamy apricot-peach notes and zesty mandarin. The floral heart is transparent and refined, a shower of rose and jasmine petals. The oriental base is cashmere-soft and sheer, with the woods being polished and the amber crisp. Yet, on the whole, there is nothing original in its character. Being quite sweet and fruity, it does not even strike me as particularly suited to the sophisticated Yves Saint Laurent aesthetic. As I wear it, I am reminded of so many fragrances that I cannot even recall anything that makes up the distinctive signature of Belle d'Opium. It feels like it had a very interesting start and then got market tested to death.
Yves Saint Laurent Belle d'Opium (fragrance family: soft oriental, strong fruity and amber accents) contains notes of mandarin, white pepper, peach, gardenia, jasmine, lily, rose incense, myrrh, patchouli, sandalwood, benzoin, suede. There are plenty fragrances that are very similar. Some of the ones that come to mind as I smell Belle d'Opium are Chanel Chance, Badgley Mischka Couture, Halle Berry, Lancôme Miracle Forever, Ralph Lauren Notorious, Calvin Klein Obsession Night, Chopard Wish. They have a similar fresh fruity opening and a warm oriental base, though Belle d'Opium is less woody than all of these choices. The warm balsamic-woody backdrop also links it closely with Missoni (2006).