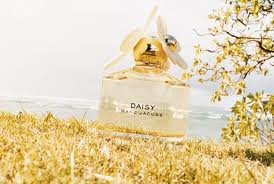 Star rating: 5 stars–outstanding/potential classic, 4 stars–very good, 3 stars–adequate, 2 stars–disappointing, 1 star–poor.
The other day I found myself uncharacteristically flipping through radio stations searching for something beyond the standard rotation of Top 40 hits. Listening to the ubiquitous pop tunes made me realize that mainstream music and mainstream perfumery share many similar themes—saccharine sweetness, simple harmonies, catchy elements, and a tendency to reflect current trends rather than push the envelope. A perfect example of these observations in fragrance is Marc Jacobs Daisy, a well-made, pretty fragrance, yet one that is not likely to be a revelation. You've smelled it all before in Dolce & Gabbana Light Blue!
Originally, Daisy was launched in the Eau de Toilette version in 2007. Created by renowned perfumer Alberto Morillas, it explores the amber and green apple crispness of Light Blue, albeit fashioning it into a bubbly, sparkling guise. It has a scintillating grapefruit and green apple opening, with the creamy sweetness of red berries softening the sharp, fresh quality. The dry amber, rendered crisp and transparent as rock sugar crystals, supports the composition and lends it a vivid and rich quality. The floral elements of the Eau de Toilette do not recall any specific flower, but rather the blur of white and pink petals. By the time the fragrance dries down to a simple, caramel tinged combination of cedarwood and musk, its pop appeal is already well entrenched. It is modern, playful and bright. Daisy is not a girl who has spells of dark moods and unpredictable tendencies.
While the Eau de Toilette is crisp and fruity, the Eau de Parfum launched in 2008 takes Daisy into a lush floral direction with a stronger accent on jasmine and gardenia. The sweet note that oscillates between violet and raspberry lends it an appealing twist reminiscent of makeup scents. The green violet leaf note persists into the drydown and attenuates the caramelized sweetness that I found cloying in the Eau de Toilette. While the Eau de Parfum still channels the pop princess prettiness of Daisy, it has a more sophisticated aura.
Not so with the most recent version from 2011! Daisy Eau So Fresh, launched to appeal to the younger market, tries very hard to please everybody. The crystalline sharpness of amber is softened considerably, the crisp green notes are made lighter, while the main accents are on the caramel and milky notes that can be found in just about every gourmand floral on the market today. Morillas' brilliant touch, however, does not allow Eau So Fresh to degenerate into a completely trite fragrance. The green pear and raspberry make for a luscious prelude, while the petally and sheer floral accord has a delicate prettiness. Though I do not find Eau So Fresh particularly compelling, when compared to most launches with obvious overtures towards the teenage market, it stands out for its relative nuance and sophistication.
A glance at my iPod full of Bach, Portishead and Massive Attack indicates that I rarely gravitate to pop. Still, there is no denying that Daisy is certainly appealing, just like Katy Perry is appealing on some days. For the most part though, I like my music and perfume somewhat darker and moodier.
Marc Jacobs Daisy includes notes of grapefruit, violet leaves, wild strawberry, gardenia, jasmine, violet, musk, vanilla, and white wood.
Marc Jacobs Eau So Fresh contains notes of grapefruit, pear, raspberry, apple blossom, wild rose, violet, cedarwood, musks, caramel, plum. Available from all major retailers and Sephora.
Samples: my own acquisition.