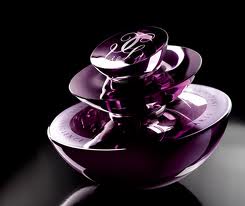 Star rating: 5 stars–outstanding/potential classic, 4 stars–very good, 3 stars–adequate, 2 stars–disappointing, 1 star–poor.
When I first smelled Insolence Eau de Toilette, I found it curious–a brash strawberry foiling a sophisticated orange blossom and iris accord. I was torn between hating the nail polish remover sharpness of the fruity top and enjoying the Guerlinade inflected drydown, between finding the fragrance vulgar and strangely appealing simultaneously. Recently, I discovered the Eau de Parfum version, which struck me as so dramatic and memorable that I feel that it deserves a review of its own. It fills in all of the spaces that the EDT left bare and adds more. Admittedly, it is not a refined composition à la Chamade or Après l'Ondée, but it packs so much character that it blows most of other recent launches out of the water.
While the EDP opens up on a similar hot raspberry and strawberry accord as the EDT, it is softer and warmer, lacking the pungent quality that I found in the EDT. The suave and rich accord of iris and violet forms the core of the composition, with the dark accent of orange blossom notes lending a surprising twist. The perfume, Maurice Roucel, envisioned Insolence as a modern interpretation of Après l'Ondée, but the EDP bears more relation to L'Heure Bleue, especially in its lavish use of floral notes. The warmth of tonka bean and sandalwood deepens the unctuous richness of florals, with the deliciously dark vanilla gilding the drydown. The heightened hue of all the elements gives Insolence EDP a fantastic character—abstract gourmand, seductive oriental and heady floral.
In a way, the ostentatious quality of Insolence is not too much out of character for Guerlain. Today, Shalimar, Mitsouko and L'Heure Bleue seem like paragons of restraint and elegance, yet in their day, they were seen as opulent and seductive above all else. Laden with all of those sensual animalic notes as they were, Guerlain classics skirted just on the edge of being unacceptably provocative. Insolence relies on the combination of powerful red fruit and violet notes, and while its aura may be different, the ostentatious effect is fully in place.
I am not a big fan of such fruity notes, and yet it is a testament to Roucel's genius that he retains a balance between all of the elements without one dominating the other. I keep returning to Insolence to enjoy its brightness, its plush sweetness and its sensual warmth. It is an extremely tenacious fragrance with a huge sillage (note: it is not a fragrance to wear to a restaurant nor a theater performance!) For all of the marketing talk of Insolence appealing to the younger generation of Guerlain consumers, I do not find it particularly puerile and girly. Wearing it, I feel not so much like an ingénue trying to impress, but like a woman who appreciates an occasional indulgence.
Insolence Eau de Parfum includes notes of violet, raspberry, red fruit pulp, rose, orange blossom, iris, violet, tonka bean, musk and sandalwood. Insolence is available from Neiman Marcus, Bergdoft Goodman, Nordstrom, Saks Fifth Avenue and other major retailers. Also available as the Eau de Toilette and the parfum.
Sample: my own acquisition