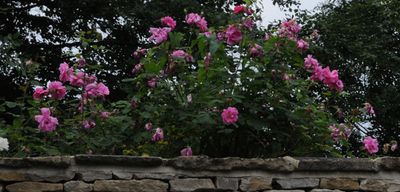 Close your eyes and imagine smelling a rose. Now imagine where you are and who you are with. My first memory is the warm, dewy, pure rose smell of roses along my back fence in my desert garden first thing in the morning. The next impression is the smell and sight of a mixed bouquet of rosebuds cut from my mother's garden. I remember how the bright colors and subtle hues of different blooms contrast and how some roses stood tall while others gently bent over the edge of the vase. The smell of each was unique. The pleasure of walking in the garden, watching for thorns, cutting the perfect roses, finding an old treasured vase and arranging them for display is intimately mixed in with the scent of roses.
"You are responsible, forever, for what you have tamed. You are responsible for your rose." Antoine de Saint-Exupery
Fossil evidence tells us that roses may be as much as 35 million years old and we have probably tamed them for as long as humans and roses have shared the same space. From the Chinese to the Romans to current time, roses have been grown in gardens for their beauty, scent and even for status. The terms heritage, antique or old roses refer to a group of plants that originated primarily in the early part of the 19th century. Up to that time roses were widely bred for ornamental purposes but most only bloomed once a year. A wild rose from China brought to Europe introduced the habitat of multiple blooms and crosses of the China rose with existing varieties began. Gardeners cultivated a variety of roses resulting from these crosses – Bourbon roses, Damasks, Centifolias, Noisettes, and many more. Bourbon roses may have resulted from a cross on the Ile Bourbon (Reunion) of a China rose called Parsons Pink and a red Damask Perpetual variety giving rise to vigorous, beautifully scented roses with many flowers. The Noisette rose was a cross between a China pink and the musk rose which resulted in a large shrub with many fragrant pink blooms that is still quite popular among growers of old roses.
Somewhere in the late 1860s, breeders produced the hybrid tea rose, not as hardy but with lovely foliage and more and prettier flowers of many colors. Hybrid teas became very popular in most gardens and became the prominent variety of rose. Away from highly tended gardens and in neglected areas like churchyards, old home sites, along roadsides and in cemeteries, the old roses persisted. Because of their Chinese ancestry, most of them didn't tolerate cold weather and so they persisted in the south. There they grew and bloomed for years without the need for pruning, insect spraying, mulching and supplemental watering while they grew tall and spread wide. Not so many years ago, in Texas, groups of hobbyists began to scout and find these old roses and 'rustle' cuttings for propagation. The rules of rose rustling include: always ask for a cutting and be willing to accept 'no' as an answer, be polite, don't overstay your welcome and be sure to say 'thank you.'
Now old roses are commonly available (in the US at least) to the gardener who wants a tough, rambling variety. Rarely are pesticides needed. If you are interested, select one that is appropriate for your climate. Ask an extension agent or look for nurseries in the area that sell them. Make sure you have a sunny site with good air circulation and that the soil is well-draining. If you plant your roses with a variety of other plants you can reduce the pests that prey on them. Garlic or strong scented herbs can discourage pests. Many old roses are ramblers and may become quite tall or spread wide and should be planted where there is room for them to spread out, for example along a fence.
The American Rose Society (www.ars.org) has a list of 10 easy to grow old roses and most originate from the first half of the 19th century.
http://www.rkdn.org/roses/oldroses.asp
http://www.ph-rose-gardens.com/roserustlingindex.htm
http://www.diy-home-tips.com/heirloom-roses.html
http://www.csulb.edu/~odinthor/oldrose.html