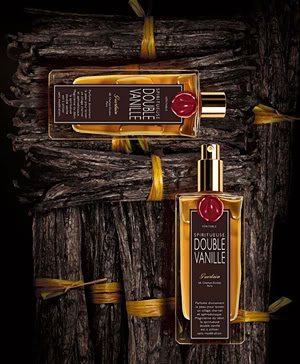 Star rating: 5 stars–outstanding/potential classic, 4 stars–very good, 3 stars–adequate, 2 stars–disappointing, 1 star–poor.
When Guerlain launched a limited edition fragrance called Spiritueuse Double Vanille in 2007, it promised a rich, luscious vanilla liqueur, the ultimate vanilla fragrance. When it became a part of the permanent collection, I finally sampled it and found the perfume discordant. It has a pleasant fruity note reminiscent of Häagen-Dazs Rum Raisin ice cream and a rich balsamic base, but it all comes together to suggest vanilla in the loud and screechy manner of a candle rather than a fine fragrance.
Vanilla, along with its synthetic variants, is an important perfumery material as well as an integral part of Guerlain fragrances. It forms the main accord of Jicky and Shalimar, lends L'Heure Bleue a plush foil and softens the dark amber of Nahéma. It makes perfumery accords suave and caressing by removing any sharp edges. However, vanilla by itself is often boring. It does not have a strong character like patchouli, iris or vetiver which can play the leading role with very few supporting elements. Successful vanilla dominated compositions like Parfums de Nicolaï Vanille Tonka, Atelier Cologne Vanille Insensée or Serge Lutens Un Bois Vanille tend to layer this note with other strong accents to play up its luscious sweetness.
On the other hand, the vanilla of Spiritueuse Double Vanille forms a single tune, which after a brief period of time becomes monotonous. Like a more recent edition of another Guerlain uber-oriental, Tonka Impériale, Spiritueuse Double Vanille is hardly a subtle, nuanced fragrance. Its sweetness, while tempered somewhat by the smoky woods and spices, nevertheless makes the fragrance feel like a heavy draping.
I know that Spiritueuse Double Vanille has a strong fan base, and I often notice on various fragrance forums the question of what other fragrances are similar. The closest fragrance for me is Chopard Casmir, although it has a stronger candied note that gives it a vibrant, lighthearted quality. Also, the smoky and woody L'Artisan Havana Vanille / Vanille Absolument might be a good choice to consider.
Guerlain Spiritueuse Double Vanille includes notes of pink pepper, bergamot, incense, cedarwood, rose, ylang ylang, vanilla, benzoin.
Sample: my own acquisition