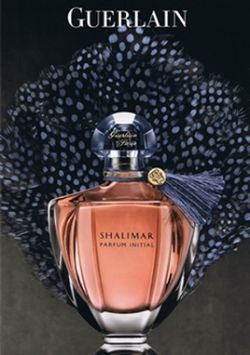 Star rating: 5 stars–outstanding/potential classic, 4 stars–very good, 3 stars–adequate, 2 stars–disappointing, 1 star–poor.
I confess that I did not expect much from Shalimar Parfum Initial, especially when I read that it is supposed to be a modern fruity version of a jewel in Guerlain's crown, Shalimar. Picking up a blue faceted bottle to spray the perfume on my wrist, I braced myself for a pink berry compote, the likes of which test remarkably well, and as a result, suffocate the fragrance market. What I experienced instead came as a surprise—a lighthearted, yet elegant blend, in which the velvety oriental notes of Shalimar are embroidered with the effervescence of sweet orange and tangerine.
While Shalimar Parfum Initial does not have the magnificence of the classical Guerlain fragrances, it is very well-made for a modern oriental that aims for broad appeal. If that sounds like a backhanded compliment, I do not mean it that way. In fact, I admire perfumers' attempts to revisit commercial themes and reinterpret them in new ways. Shalimar Parfum Initial smells au courant, but it does not have anything trite about it. It has a bubbly, vivacious character, however it is not yet another candy bar and lollipop banality that seems to be a common theme for women's fragrances today.
The fragrance opens up on a bright accord of fruity notes, with strong accents of citrus and raspberries. The pleasant warm sensation unfolds almost right away, with the soft iris and sandalwood notes lending the perfume a sophisticated twist. While the original Shalimar was based on an accord of bergamot and vanilla, Shalimar Parfum Initial makes the citrus sweeter and softer. The green leafy accent replaces the peppery bite of the original, while the sheer rose is all that remains of Shalimar's opulent floral heart.
As the composition dries down, the strong patchouli accents become more apparent, linking Shalimar Parfum Initial to the gourmand genre of Thierry Mugler Angel and Chanel Coco Mademoiselle. It nevertheless has some elements that set it apart from other fruity patchouli scents. I like the cool layer of vetiver that dispels the heft of the gourmand accord. The suggestion of crisp green notes is likewise an interesting embellishment. It is a charming scent, and I would not hesitate to recommend it to those who like gourmand oriental fragrances. Still, as much as I like Shalimar Parfum Initial, I cannot help wishing for Guerlain to resume working on classics, rather than doing twists on the existing collection. Hope springs eternal!
Guerlain Shalimar Parfum Initial includes notes of bergamot, orange, jasmine, rose, patchouli, musk, tonka bean and vanilla. It is available from Sephora, Macy's, Bloomingdales, Bergdorf Goodman and other department stores. $67 (1.3oz), $84 (2oz) of Eau de Parfum.
Sample: my own acquisition