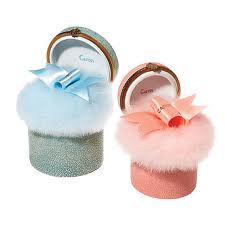 Most makeup accessories I own are purely utilitarian, with looks to match. The exception, however, is my Caron powder puff. It is a feathery light orb of goose down, with a satin ribbon bow. The powder puff I selected is tinted bright fuchsia, although pastel pink, lemon yellow, peach, lavender and red were equally tempting. As I reach for it to put finishing touches on my makeup, I feel as if I am getting ready for a ball, rather than another day at the office. I do not know about you, but I certainly appreciate such fantasies to keep the weight of routine at bay.
Good looks aside, the powder puff is a fantastic beauty tool. It spreads the loose powder in an even, thin layer on the skin, preventing a thick application, but creating a perfect surface. Caron sells powder as well, and I have gone through a period of using it. These days I am partial to Bare Escentuals Mineral Veil which works well with both a large brush and the feathery puff. Caron sells the powder puffs in a transparent plastic container, but at home I keep it in a glass candy jar to better admire its looks.
The puffs are available in several sizes, with the smallest ($65) being the best choice for face powder application. This soft accessory is made out of goose down which Caron, with some poetic license, calls cygnet (baby swan.) There is some confusion as to how to care for the puff, but in my experience, it can be washed. I do not find that it requires frequent washing, but an occasional bath will do it no harm.
The best way to wash it is to fill a sink with warm water, add a small amount of either makeup brush cleanser or a facial soap like Johnson & Johnson Purpose. Holding the puff by the satin ribbon to avoid getting it wet, dip the down portion in the soapy liquid and swirl around very gently. Then fill the sink with clean water and rinse briefly, following the same procedure. Leave to dry on absorbent paper towels or blow dry on cool setting. Do not be concerned that your fluffy powder puff suddenly looks like a sad, lumpy fur ball. It will regain its shape once it dries out completely. My powder puff is about 5 years old, and it still looks perfect.
Caron powder puffs are available from Caron boutiques (the NYC location is 715 Lexington Avenue (58th Street); 212-308-0270.)