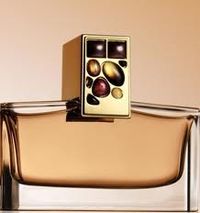 Star rating: 5 stars–outstanding/potential classic, 4 stars–very good, 3 stars–adequate, 2 stars–disappointing, 1 star–poor.
The combination of sweet amber and flowers is the olfactory equivalent of hot chocolate with whipped cream, where the heavy richness of one component is balanced out against the airy softness of the other. Amber Ylang Ylang, a fragrance from Estée Lauder's Private Collection, is a great example of how this sumptuous pairing works. Amber Ylang Ylang was created in 2008 by Annie Buzantian and Honorine Blanc-Hattab and it is a comforting, enveloping veil of a fragrance, with a gourmand twist.
Just as whipped cream is deceptively light, so too is ylang ylang. The initial cool wintergreen notes give an impression of freshness, while the richness of its jasmine-like heart comes almost as a shock. In Amber Ylang Ylang, the icy freshness is reinforced by citrus and green notes, and even if the overall aura is that of opulence, the bright prelude makes the fragrance more radiant.
The amber part of Amber Ylang Ylang is obvious from the very start. Folded into incense and vanilla, it has a rich, velvety character. Although sweet notes (vanilla, sugared almonds, candied orange) are pronounced, the dry woods temper them enough to prevent the fragrance from becoming cloying.
Do not expect twists and turns, however, because Amber Ylang Ylang places all of its cards on the table at once. It delivers exactly what it promises, a lush duo of two classical notes accented by woods and spices, but for lovers of rich orientals, it is a great choice. It is well-made, elegant, with a hint of drama. It also holds its own next to other excellent ambers like Lalique Le Parfum and Serge Lutens Ambre Sultan.
Estée Lauder Private Collection Amber Ylang Ylang is sold as both Eau de Parfum and Parfum. It includes notes of ylang ylang, bergamot, rose, cinnamon, incense, vanilla, sandalwood, and amber. EdP: 1oz, $80, 2.5oz, $135; parfum, 1oz, $325. Available from Estee Lauder counters.
Sample: my own acquisition