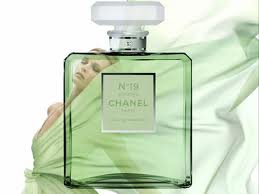 Star rating: 5 stars–outstanding/potential classic, 4 stars–very good, 3 stars–adequate, 2 stars–disappointing, 1 star–poor.
I am glad that I did not review Chanel No 19 Poudré within the first few days of wearing it. My initial impression was negative, but today I realize that it was so mostly because No 19 Poudré is not No 19. It also does not have the brilliant, original character of its predecessor, nor does it leave such a deep imprint in one's memory. What No 19 Poudré does well—and the reason I came around in my opinion—is to create a soft, tender veil around its wearer. It is comforting and mellow, a sip of warm green tea to the original's dry white wine.
The main impression of No 19 Poudré is a powdery floral. The moment I spray it on my skin, the feeling of a talcum mist is almost palpable. If you are not a fan of such sensations, then read no further. While No 19 Poudré takes a few twists and turns, it retains its powdery character throughout. I find the makeup-like notes in perfumes to be alluring in an old-fashioned manner, and despite the perfumers' intent to modernize No 19, No 19 Poudré seems to me likewise retro. However, retro is usually a selling point for me.
Once the zesty brightness of orange and mandarin settles, the cool iris and hyacinth notes infuse No 19 Poudré with fruity sweetness. Contrasted with the green sharpness of galbanum and vetiver, the powdery notes seem softer and lighter. The drydown is dominated by tonka beans and musk. While the initial illusion is of a cool veil of powder, the drydown is reminiscent of a delicate cashmere wrap. It is hardly dramatic or memorable at this stage, but it is pleasant and easy to wear. This might seem like an underhanded compliment, but easy to appreciate, quality perfumes have their place. In the end, I enjoy No 19 Poudré not as a variation on No 19, but as a comforting, silk slip perfume.
Chanel No 19 Poudré includes notes of mandarin, neroli, iris, jasmine, galbanum, vetiver, musk, tonka bean. Available at Chanel counters and online.
Sample: my own acquisition