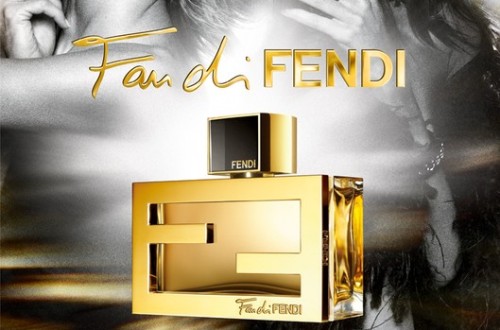 Star rating: 5 stars–outstanding/potential classic, 4 stars–very good, 3 stars–adequate, 2 stars–disappointing, 1 star–poor.
First, please let me get it off my chest. I am angry at Fendi for discontinuing Theorema, one of the perfect spicy fragrances—it smells like pomanders and smoky roses. I am disappointed that Life Essence, a brilliant perfume of mossy cedarwood, cardamom and geranium was axed. And I still don't understand why Asja, the spicy jasmine set in amber, had to go as well. So when Fan di Fendi landed on my local Sephora shelf, I tried my best to ignore it.
Even when I finally tried it, I wasn't convinced by Fan di Fendi–another fruity patchouli, another glitzy gold package a la Paco Rabanne Lady Million  and Gucci Guilty. The top notes are the same electric citrus and berry that I find in most new launches that brand themselves as "modern floral oriental." They are sheer enough to give a glimpse of the bittersweet patchouli and cotton candy notes. The prelude to Fan di Fendi is as ubiquitous as the Justin Bieber posters in my local mall.
But things get more interesting as Fan di Fendi dries down. The berries vanish, the creamy blur of jasmine and rose softens, and the tender leather note takes over. Piquant cinnamon and vanilla light up the chocolate-like richness of patchouli, and sheer woods add another layer to the base notes. In the Eau de Parfum, there is also a violet note that reminds me of vintage lipstick and bonbons, a pleasant twist on the fruity patchouli.
Fan di Fendi is clearly trying to woo the same consumer that loves Chanel Chance, Christian Dior Miss Dior Cherie and Yves Saint Laurent Belle d'Opium*, but it feels more sophisticated and less sugary than any of those fragrances. There is some flamboyance to the fragrance that fits with my vision of Fendi, even the marketing image of models at what looks to be a rave party seems out of place.
The tenacity of the Eau de Parfum is excellent, and it lasts on my skin from morning to evening. The Eau de Toilette is lighter and fresher, a much less exciting alternative. What Fan di Fendi lacks in originality, it makes up for in being wearable and nicely crafted.  I'm not tempted to buy a bottle, but if I have to recommend a trendy modern fragrance, I wouldn't hesitate to mention it. Obviously, I'm in the minority in not wanting a bottle of Fan di Fendi—it has been doing well enough to land among the top sellers last year.
Fan di Fendi EDP includes notes of tangerine, pink peppercorns, pear black currant accord, jasmine, rose, tuberose, leather, and patchouli. The EDT includes petitgrain, tangerine, green tea, blackcurrant buds, broom, jasmine, leather and patchouli. Available from Sephora, Bloomingdales, Neiman Marcus, Macy's and other major retailers.
*And of course, Chanel Coco Mademoiselle, Salvatore Ferragamo Signorina… Did I miss any other blockbuster fruity patchouli perfumes?
Sample: my own acquisition