My childhood smelled like crushed strawberries, dirt caked fingers, freshly baked sugar buns, sun dried linens and lilacs. Those few days in the spring when the lilacs would bloom profusely and fill our house with their heady perfume were enough to leave a lasting memory for years. So whenever I see a lilac bush in bloom, I can't resist burying my face in the thick foam of its tiny blossoms.  Lilac smells of roses, milky almonds and green leaves. The first whiff is citrusy and fresh; a deeper inhale reveals its haunting accent of decay and mothballs (indole, the same aromatics that give jasmine, tuberose and orange blossom their seductive timbre).
To make a lilac, perfumers use one of those tricks that never fail to make me feel a certain child-like delight. It's almost magical when it works. You put together rose, lily of the valley, and almond notes, add a hint of clove, and suddenly the mixture will smell of lilac. Of course, the devil is in the details—the proportions need to be perfect, the balance has to be worked out, but since lilacs can't be processed for their scented oil (at least, not on a commercial scale) this is the next best thing.
In the context of classical fragrances, lilac can hold its own next to other more revered flowers like rose, jasmine and ylang ylang, even though it rarely stars solo. Lilac, like a beautiful ingenue on screen, can add a romantic flair to the main plot. The entire Caron classical collection, from Fleurs de Rocaille to Or et Noir, uses lilac in this manner. Farnesiana treats it softly; intertwined with mimosa and violet, lilac suggests a salty breeze and dew drenched flowers. In En Avion, lilac is warm and inky, a perfect ornament to the brooding darkness of this mossy citrus composition. When I wear Guerlain Après l'Ondée, I find that lilac complements the tenderness of this violet and carnation bouquet.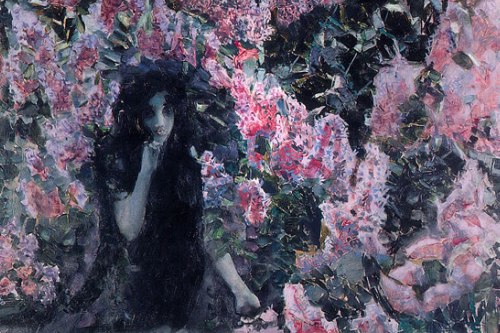 As a lover of both lilacs and perfumes, I'm out of luck these days because this note is considered old-fashioned and dull. Most fragrance development managers will complain that it smells like a household product. Since the main ingredient used to create a lilac accord, terpineol, has been a common fragrance note in cleaning and air freshener products, there is some truth to this. But it hasn't stopped me from searching for lilac and discovering the beautiful modern compositions that play up its almond kernel sweetness.
When I crave sheer and radiant lilac, I turn to Frédéric Malle En Passant. It blends the airy freshness of wet leaves, rain soaked blossoms and green almonds to create a fragrance that smells like a walk after a May shower. Gucci Guilty for Her is an effervescent confection that pairs lilac with earthy patchouli and juicy peach. Estée Lauder Pleasures uses a touch of lilac to enrich its green rose heart, while a similar accent in Love, Chloé creates a suave, velvety sensation. I was so accustomed to these plush lilac interpretations that I didn't recognize right away that Gendarme cologne has a fair bit of lilac. Its delicate sweetness lends a pleasant soft note to what could have been an austere citrus and incense fragrance. So who said that lilac is only suitable for Glade?
Do you enjoy lilac (on the branch or in the perfume bottle)? What are your favorite lilac fragrances?
Images: first photo by Bois de Jasmin, all rights reserved. Second is a painting by Mikhail Vrubel. Lilac (a fragment from the original painting). 1900. Oil on canvas. The Tretyakov Gallery, Moscow, Russia. wikipedia.org, some rights reserved.