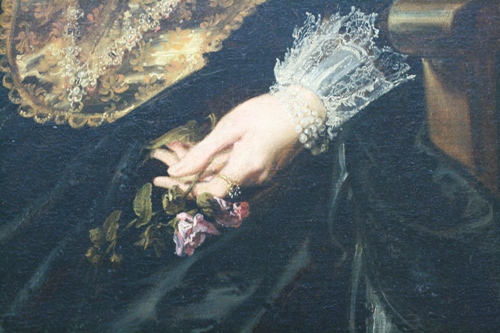 I never fully appreciated the beauty of a material with a funny name like opoponax (also spelled as oppoponax or opopanax) until about a year ago when I had to test a large batch for quality. A huge vat was unloaded on my desk and as I took off the lid and leaned over to dip a testing strip into the molasses-like liquid, the wave of warm, sweet scent washed over me. It smelled of aged scotch, mahogany shavings and bitter caramel, but it was also velvety and powdery. It was overwhelming to smell opoponax in such a way, but the tactual, almost tangible presence of its scent made a strong impression on me.
Of course, you don't need a vat of opoponax to appreciate its suave presence in perfumes. Opoponax is sometimes called the sweet myrrh, because both myrrh and opoponax are derived from the bark of the Commiphora species (in case of opoponax from Commiphora opoponax/Commiphora erythraea). Its relationship to myrrh is mostly botanical, because opoponax smells sweeter, warmer, more powdery and smoky. Myrrh makes me think of damp stones; opoponax brings to mind the smoldering embers of a fireplace. Myrrh is a somber Gregorian chant, and opoponax is a joyful madrigal.
What makes myrrh and opoponax similar is the challenge they present to perfumers. Creating a beautiful balance and harmony with a buttery, dense material is complicated, and it's essential to dose opoponax carefully. Often, this material is used not in its pure form, but as part of the Opoponax base, which includes bright notes like lavender, bergamot, and lemon as well as creamy nuances from sandalwood and vanilla, among others. Based on the 19th century perfume Bouquet Opoponax by Septimus Piesse, the opoponax bases have a voluptuous heft.
As part of a base or on its own, the effect of opoponax is glowing and sensual. Whenever I spray on Shalimar, even as I enjoy the shimmer of bergamot and lemon, I already anticipate its drydown of amber, leather and vanilla. The powdery, but luminous note that gives this Guerlain classic such a special velvety impression is opoponax. Without it, the Guerlinade accord that forms the core of Shalimar wouldn't be the same. As it lingers on my skin for hours after the cool citrus accents vanish, its warmth comforts me.
Must de Cartier, which was inspired by Shalimar, is another fragrance that any opoponax lover—or anyone interested to smell this material in action—should try. In Must de Cartier, the drydown is much more animalic and lusty, with the opoponax teasing the sweetness out of civet and musk. If you love the retro, bombshell perfumes as much as I do, I also recommend Jean Desprez Bal à Versailles. Wearing this heady fragrance is a bit like playing dress up and acting out a period drama, as it doesn't skimp on the dazzling effects, but in the late stages, a whisper of opoponax gives a pleasant powdery softness to its animalic basenotes. Chanel Coco, Yves Saint Lauren Opium, and Dior Poison are a few other bold and sumptuous examples, where the opoponax plays a distinctive role.
Opoponax need not be reserved for the perfume equivalents of ball gowns; it can give an intriguing dark streak to a summery floral. Nevertheless, being a dark and exotic creature, opoponax loves to be in the company of other oriental notes. In Aftelier Secret Garden, the opoponax and incense wrap the honeyed petals of jasmine and rose to create a suede-like effect. The cashmere on bare skin sensation of Flower by Kenzo is likewise due to a touch of opoponax as well as plush musks and vanilla. In Les Parfums de Rosine Poussière de Rose I love the way the resinous notes echo the smoky richness of tea, incense and amber. The rose forms the heart of the fragrance, but it's a dark blossom found pressed between the pages of an old book, rather than a dew drenched flower.       
Image: Anthony van Dyck, Flemish, 1599-1641, Portrait of a Lady (detail), 1619, Art Institute of Chicago, photo by Bois de Jasmin, all rights reserved. This painting from my Scented Trail Through the Art Institute of Chicago smells of Poussière de Rose.