Why do you wear perfume? If I were to judge by fragrance marketing, all of us wear perfume to make the opposite sex fall down in a dazed stupor at our feet.  Now, the good thing about Valentina, the latest perfume from Valentino, is that it avoids the tired clichés; it presents a young woman who plays by her own rules instead of following the conventions. I must have watched the TV ad with its terrific Via Con Me soundtrack by Paolo Conte at least a dozen times before I finally smelled the fragrance.
Valentina was created by perfumers Alberto Morillas and Olivier Cresp, who between the two of them have scented millions of women—CK One, Thierry Mugler Angel, and Kenzo Flower are only a few of the examples that come to mind. When I thought of what could have been done by these two masters for the fashion house of Valentino with its flamboyant, but elegant aesthetic, I could hardly wait to try Valentina. And what a letdown! Despite its vibrant, fun concept, Valentina is tame and devoid of any personality.  It is a pale tuberose with a light swirl of strawberry; it vaguely resembles Juicy Couture, but lacks its laughing, vivacious presence. Why Valentino chose to hire perfumers at the rank of Picasso and make them paint a quaint still life, I have no idea.
Valentina is everything that most fragrance launches are these days—it's well-crafted, but  it's also predictable. The initial burst of sweet citrus and berries leads into the white floral swirl, which is transparent and sparkling at first and creamy and sweet a few minutes later. The crisp amber offsets the candy-like sweetness of the drydown, with woods further tempering the vanilla. There are some beautiful ingredients in this fragrance—I notice a green trace of mimosa absolute and a creamy flourish of tuberose, but in the end, Valentina doesn't say anything new.
When Robin reviewed Valentina on NST, she said, "I hope that if a woman ever finds herself in Freja Beha Erichsen's shoes — that is, in a gated Italian villa, wearing a gorgeous Valentino dress…well, I hope that she can find herself a more fitting perfume." Robin is right—Valentina is a nicely crafted perfume, but it leaves so little in my memory that it's hard to be overly excited about it. A fragrance aiming for the top seller spot can't take any risks—or at least, the fragrance directors feel that it can't, but I was disappointed that Valentina ended up as a complete wallflower.
And here is a TV ad for your viewing pleasure:
Valentino Valentina Eau de Parfum includes notes of bergamot, jasmine, strawberry, orange flower, tuberose, cedar, amber, white truffle and vanilla. Available at most major retailers.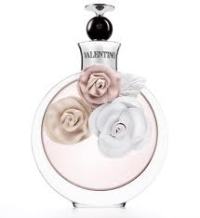 Star rating: 5 stars–outstanding/potential classic, 4 stars–very good, 3 stars–adequate, 2 stars–disappointing, 1 star–poor.
Sample: my own acquisition