I love when a perfume makes me smile. Sure, I love fragrances that challenge me and make me want to dress up for them, but on most days I want something that's playful and easy to love. For this reason, sparkling orange blossoms are my perfume staples. The Comme des Garçons fragrance collection has plenty of playful perfumes, even if  some like Comme des Garçons Original and Odeur 71 straddle the line of unwearable for me. But the new trio of Red Play, Black Play and Green Play launched under Comme des Garçons's casual Play label is squarely in the fun "t-shirt and jeans" perfume category.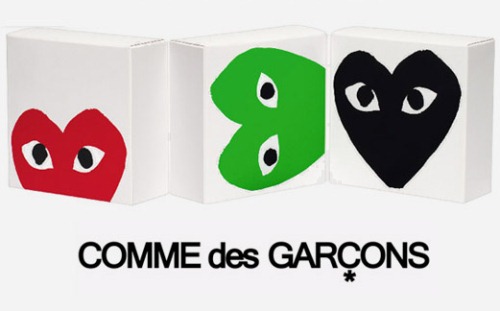 Red Play
Does the combination of cherries and leather sound intriguing to you? It certainly caught my attention, and Red Play became my favorite out of the trio. The sweet orange and pepper is piquant and zesty, but the initial sparkle belies the complexity of Red Play. It's like biting into a luscious red cherry and discovering that it's actually made of red hots, the spicy cinnamon candies. The tartness–think rhubarb, red currants or green raspberries!–contrasted with the spice makes for an exciting fragrance. Playful is the best description for it. It makes me feel chic, like someone who knows instinctively how to accessorize a dress from H&M with a vintage belt or how to wear a fedora and not look ridiculous.
Red Play features red mandarin, pink peppercorn, saffron, red cherry accord, geranium, cinnamon, osmanthus, myrrh and balsam of Tolu.
Green Play
I would love a perfume that smells like crushed leaves and cut grass–intense, vivid and exhilarating.  Green Play comes close at first, when the mint and basil feel so cool on my skin that I also get goosebumps. But this sensation lasts for but a few minutes. The green effervescence subsides quickly enough, with the earthy and musky notes softening the sharpness of the opening accord. The richness of vetiver is a pleasant counterpoint to the mint tea impression, while the peppery spice of juniper adds a gin & tonic like twist. Green Play is charming and uncomplicated, but I imagine that on a hot summer day it would be as perfect as an iced drink.
The fragrance includes mint, lime, juniper berry, basil, jasmine, mastic tree, ambrette seed, vetiver and cedarwood.
Black Play
I imagined Black Play to be a dark incense like Avignon or perhaps a smoky tea à la Bulgari Black, but it surprised me by turning out to be a sheer woody scent liberally garnished with pepper. The frankincense oil smells peppery and bright on its own, but here I notice a dollop of spice that heightens the impression. The fresh herbal notes in combination with transparent mossy drydown make Black Play more conventionally masculine than the other perfumes in the trio. Denyse also finds it salty and reminiscent of seaweed. It's a memorable fragrance, with enough twists and turns to be more than just another incense. A bit too masculine for me personally, but easily the most original from the collection.
Black Play's notes are black pepper, pepperwood, red pepper, violet, thyme, black tea, birch tar, incense and tree moss.
Overall, the trio is very interesting, with each fragrance offering a different interpretation of fruity, green and smoky notes. My main qualm with the Play fragrances is their lack of tenacity. Black Play has the best longevity on my skin, Green is the most ethereal, and Red is somewhere in between.  You certainly don't want a sillage like that of Dior Poison from a casual, daytime perfume, but the poor lasting power can be frustrating.
Comme des Garçons Red Play, Black Play and Green Play (Eau de Toilette) are available from Barney's, Aedes, Luckyscent and Comme des Garçons boutiques carrying the line in 100 ml spray bottles/$100.
Sample: my own acquisition