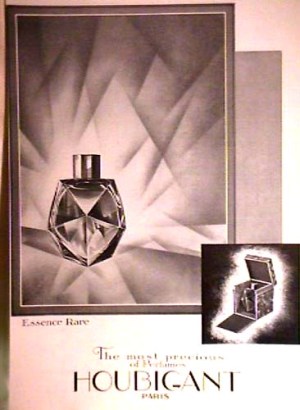 Houbigant is a fragrance house with a remarkable legacy. Its Fougère Royal created in 1882 by talented Paul Parquet was the first fragrance that successfully fused the manmade ingredient coumarin with natural aromatics. The majority of fragrances trailed by men today are descended from this abstract and effervescent composition. By the time Robert Bienaimé took over the reins from Parquet as the chief Houbigant perfumer, the house had several beautiful fragrances to its name: Le Parfum Idéal, Violette Pourpre and Coeur de Jeannette. Bienaimé created several other distinctive blends, including Quelques Fleurs before opening his own house Bienaimé Parfums in 1935. Essence Rare was one of the last few fragrances he designed for Houbigant before his departure.
One my readers, Jillie, who had also set out on an exciting search for Nicky Verfaillie Grain de Sable, is likewise responsible for my discovery of Essence Rare. She wrote to me, "I remember that I was wearing it in the early days of engagement to my now husband, and his roommate commented that he smelt strongly of perfume after visiting me!  But at least it was a lovely perfume." She sent me a sample from her vintage bottle and when I dabbed a dark drop of liquid on my wrist, I was not sure what to expect. I knew that the Essence Rare originally launched in 1928 was meant as Houbigant's take on Chanel No 5, and I've learned subsequently that the fragrance was relaunched in the 1970s, which is what Jillie wore during the early days of her courtship.
The top notes of Jillie's sample have deteriorated, but the pungent, sour notes spelled the obvious presence of a big dose of aldehydes, synthetic materials that give a great lift and champagne-like sparkle. Once the top notes melted away, I could smell a rich rose laced with spices, a thick slick of civet and velvety musks. The patina of age doesn't serve a perfume well, but as Jillie and I agreed, some aspects of the former beauty remained. I promised Jillie that I would try looking for more information and give her some ideas as to what other perfume might be similar.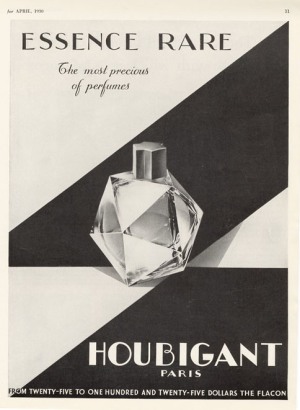 According to Michael Edwards and Luca Turin, the 1970s reissue of Essence Rare was a take on Yves Saint Laurent Rive Gauche. When a couple of weeks ago I finally managed to smell Essence Rare in a more or less intact state, I could see the green metallic roses of Rive Gauche clearly. There is a rich oriental twist to Essence Rare that made for an enveloping, sensual drydown. Rive Gauche is the embodiment of elegance, but Essence Rare feels like more of a bombshell.
Even the current reformulated version of Rive Gauche should hit the spot for anyone who loves Essence Rare or enjoys luscious floral bouquets made more effervescent by the addition of aldehydes. Lanvin Arpège is floral and sweet, with a beautiful vanilla and sandalwood accent. Estée Lauder White Linen is a classical aldehydic rose that's clean and refined, while Pure White Linen is a modern—green and  fruity—take on the original. Etat Libre d'Orange Putain des Palaces, by contrast, has a smoldering accord of musk, amber and leather that contrasts well with the gentle aldehydic softness of its top notes. It's like smelling a corsage of rose and violet on someone's warm skin.
My last suggestion would be Paco Rabanne Calandre–it inspired Rive Gauche, which in turn was a role model for Essence  Rare. Calandre is a stunning perfume that smells of hot metal, warm skin and dark roses. Its shimmering green opening doesn't prepare one for the seductive twist of civet and moss that follows the bright prelude. An impeccably crafted fragrance that truly deserves a chapter in any book on perfume history.