Lauren was one of the greatest American perfumes that made a big splash in the 1980s, but where is it today? Ralph Lauren counters rarely feature the familiar red bottle shaped like an ink well. Moreover, like most classics, Lauren got so many face lifts that it's barely recognizable. I'm still learning to like it in its pale green and soft version, but my memory of the juicy cantaloupe and jasmine folded around mossy cedarwood is still too poignant. My readers Michelle, MaryAnn and Renée felt the same way, and I've decided to review Lauren and turn to you for possible alternatives to this lovely fruity floral fragrance.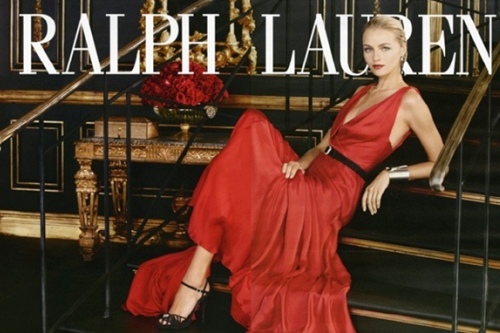 Now, 'fruity floral' and 'lovely' rarely appear in the same phrase on perfume blogs, mostly because the onslaught of identical and boring fruity florals has devalued this charming perfume family. Lauren is a great example of how appealing and delightful the marriage of flowers and fruit can be. Right from the moment you put it on your skin, it feels sparkling and refreshing, like a sip of iced cocktail. It's green and tangy like Granny Smith apple skin, but also velvety like a ripe melon.  In today's Lauren, the top notes are mostly green—a tangle of leaves and a squeeze of tart grape juice.
The musky richness of black currant tones down the exuberance of fruity notes, and when Lauren reveals her floral side, I'm smitten. The jasmine, freesia, lily of the valley and rose are rich, but not heavy. It's as if they are rendered in pastels—much like the cashmere twinsets that the Lauren woman likes to wear. A cool brush of moss, a touch of sandalwood, and Lauren feels like someone's soft skin—wholesome, clean, but also alluring.
Lauren is a glimpse into the world where women have perfect chignons and men not a single crease on their white linen suits. It's an American dream, a perfect aspirational fantasy on which fashion designer Ralph Lauren built his house. But Lauren isn't stuck up or aloof. In order to look for fragrances that would satisfy our cravings for Lauren, I decided to explore other perfumes that combine fruity effervescence and floral elegance.
My first recommendation is Hermès Amazone. When perfumer Bernard Chant created Lauren in 1978, Amazone was a fragrance that had already made a big splash on the market and no doubt its combination of black currant, jasmine and mossy woods inspired Lauren. Chanel Cristalle is another interesting option. Like Lauren, Cristalle is citrusy and leafy at first, but it hides a delicious peach under its orange blossom, jasmine and bergamot. Go for the Eau de Parfum version of Cristalle, if you crave more flowers.
For a more contemporary fragrance, I would recommend The Different Company Osmanthus and Ormonde Jayne Frangipani, which infuse their floral notes with the green apple accents that I love about Lauren and set them against a soft, polished backdrop of cedarwood.
To get the most out of the melon-jasmine combination that I love in Lauren, I sometimes reach for Frédéric Malle Le Parfum de Thérèse. It's more of a bombshell than Lauren. 'Lauren' would sit and patiently observe her partner playing polo; 'Therese' would be loudly rooting for him. She is a very different character, but she is likewise irresistible in her jasmine and melon dress.
Do you wear Lauren? Do you have other recommendations on fragrances similar to Lauren?
Ralph Lauren Lauren includes notes of lemon, orange, tangerine, black currant buds, ylang-ylang, jasmine, mimosa, carnation, broom, marigold, thyme, cedarwood, sandalwood, and oakmoss. Available from select Ralph Lauren counters.
Sample: my bottles from the 1980s, 1990s and this year's sample.