I just discovered another reason to like Belgium, and it's a modest looking place called Place Vendôme Haute Parfumerie. Modest applies only to the exterior of this perfumery located on a quiet street in the town of Wevelgem, one hour south-west of Brussels. Inside, it's an Ali Baba's cave of the most exclusive niche lines and fragrance classics. The store is owned by David Depuydt, who along with his team has been in business for the past 21 years.
I found out about Place Vendôme by chance via a friend who raved about the customer service and the jewelbox ambiance of the store.  Similar praises were lavished upon the boutique by both the perfume historian Elisabeth de Feydeau and Guerlain's creative director Sylvaine Delacourte. Although Brussels lags behind New York and Paris in terms of perfume shopping, fragrance isn't hard to find in Belgium, where even the cosmetic shops like Ici Paris XL and Planet Parfum carry Serge Lutens and small lines like Kenzo, Rochas, and Tom Ford. A couple of weeks ago my husband proposed to visit the trappist abbey at Westvleteren that brews a particularly sought after beer. Since the abbey's limited distribution of their beer rivals that of Serge Lutens bell jars, we decided to combine our interests in one trip. We're a family of geeks, what can I say.

The first thing I said when we opened the door and stepped inside the boutique was "Wow!" The space is decorated with gold leaf and crystal chandeliers, evoking an Arabian Nights fantasy. But the boutique nevertheless retains an elegant look and an intimate ambiance. In addition to perfume, Place Vendôme sells some high-end skin care and makeup, a small, but  well-edited selection. Besides the neat rows of perfume bottles, there are gorgeous ornamental flacons and factices (large size bottles made for display only). The boutique arrangement reminded me of a museum, where with every step you're discovering something  new.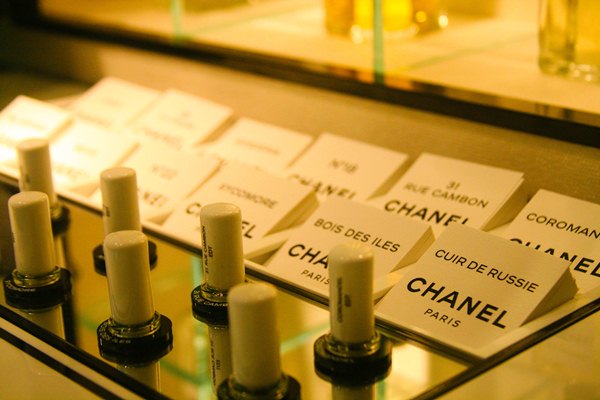 Guerlain, Annick Goutal, Chanel and Amouage are represented really well, with displays that combine fragrances and raw materials. The store also carries Cartier, Etat Libre d'Orange, Hermès, Serge Lutens, Parfums de Rosine and vintage gems like Balmain Ivoire. It's the only place in Europe, besides Paris and London, where you can try the coveted Guerlain Les Déserts d'Orient trio. The entire range of Chanel fragrances is available for sampling in all concentrations, from Eau de Toilettes to Parfums. Should you wish to play with Chanel lipsticks and eye shadows, the display cases are nearby.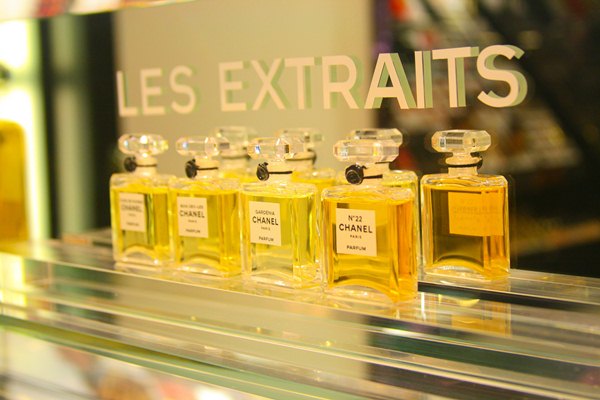 Having gotten used to the polite, but indifferent Belgian customer service, I was pleasantly surprised by the generosity and warmth that I discovered at Place Vendôme. (For the record, I didn't mention that I had a particular interest in perfume nor did I mention my blog until I was ready to pay for my purchases.) I, along with other customers at the store, was treated like royalty, and the hour or so that my husband and I spent at the boutique was more like an educational experience than a shopping trip.
Steven Verstraete, one of the Place Vendôme specialists, showed me the fragrances I was interested in and gave great suggestions on wearing them. I learned about the launch of Guerlain Mon Précieux Nectar, the origins of the gorgeous Mitsouko bottle decorated with lotus blossoms (it's a rare limited edition filled with actual perfume and it costs around 25 000 euros) and how Guerlain Delice de Peau cream can be worn with any Guerlain fragrance to add a more sumptuous aura. There was no pressure to buy or to make up my mind quickly. I could see myself spending an entire day at the boutique and making more discoveries, and I definitely plan to return.
If you are a perfume lover, Place Vendôme merits a special pilgrimage. While Wevelgem itself doesn't boast many great sights, it is close to Ieper, a city with an incredible history and moving World War I memorials. It is also one hour away from Brugge and Gent and 30 minutes away from Lille.  The surrounding countryside is dotted with tiny villages and scenic pastures. The Abbey of Saint Sixtus in Westvleteren is a must visit for beer lovers. Beer guides repeatedly declare its beer to be the best in the world, and since it's not sold outside of the abbey (and even there, it's available by appointment only) and the local cafe (thankfully, no reservations needed), it makes for a memorable discovery. Their Blond tastes bitter and hoppy, with a surprising creamy feel, while the Brune has a lingering aftertaste of chestnut honey and cinnamon stewed pears. After testing your nose with the beautiful perfumes, it will be a great treat for the palate.
Place Vendôme – Haute parfumerie
Menenstraat 2/A
8560 Wevelgem, Belgium
(+32) 056 41 24 68
Photography by Bois de Jasmin