I've been reading a lot of Marie Claire lately. You see, if I read it in English, I feel self-indulgent, but if I read it in French, I can justify the time spent as a language practice. Plus, since the French Marie Claire comes with a Belgian insert, I learn a lot about new lines and local products. My latest discovery is Bien-être L'Eau Parfumée des Familles. Besides Caudalie Divine Oil (Huile Divine), the French beauty press has fallen hard for this simple cologne. Described variously as "a little scented trinket" or a "light and bright scent for a midsummer night's dream," it caught my attention too, as did its great price  of 6 € ($7.50) for a 250ml bottle.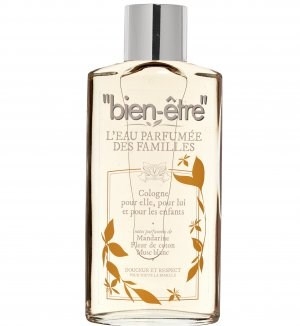 It's a light citrusy cologne that dries down to a powdery floral musk. Intended for the whole family, including children, it has the typical scent of French baby products–orange blossom. L'Eau Parfumée des Familles also weaves some crisp violet and grape notes, in addition to cedarwood, and its scent is at once lighthearted and sophisticated.
I've learned that in Belgium, as in France, colognes are a popular addition to evening baths, and I've experimented with a few favorites, from Ô de Lancôme to 4711. L'Eau Parfumée's refreshing and delicate scent lingers pleasantly on the skin, becoming my perfumed nightgown. Incidentally, light, low-sillage perfumes like L'Eau Parfumée des Familles, Eau de Bonpoint, Parfums de Nicolaï Petit Ange, Petit Guerlain, Le Labo Ambrette 9, and Bulgari Petits et Mamans, and L'Artisan L'Eté en Douce are also perfect for office or travel, when I crave something comforting, but don't want to impose my perfume onto anyone else.
L'Eau Parfumée des Familles was created by perfumer Sidonie Lancesseur. I enjoy much of her work including by Kilian Straight to Heaven, Incense Oud, and Cruel Intentions and Olfactive Studio Lumière Blanche (my current infatuation!) It was fun to see that even such a simple product as a baby cologne can get a new elegant twist.
Bien-être L'Eau Parfumée des Familles includes notes of mandarin, freesia, pear, orange blossom, honey, musk, cedarwood, and oakmoss. L'Eau Parfumée des Familles is available from pharmacies in France (and starting in September you can find it all over Europe), so it's another great example of what to look for during your travels.