During my last trip to the Middle East almost three years ago, my camera broke down, and I couldn't take a single photo. At first, the missed opportunity to capture the blazing whiteness of marble buildings, the majestic and scary beauty of the desert, and the dazzle of gold displays made me wince with regret each time I came upon another beautiful scene. But after a while, I realized that maybe my camera wouldn't be necessary after all; the scents surrounding me were so strong and vivid that today I have no trouble recalling either the aroma of ripe dates–caramel and honey!–or the heady fragrance of cardamom and rosewater flavored coffee. And of course, the perfumes! Both the men and women I encountered were exquisitely perfumed. Smoky roses, honeyed oud mixed with patchouli, sandalwood roughed up by smoky leather… I had to fight the urge to ask every other person in the street what they were wearing.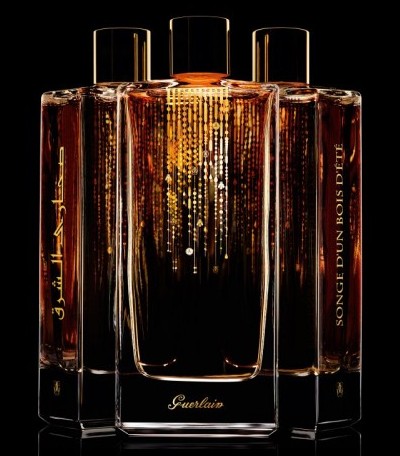 But out of their hot desert context, some of these perfumes felt heavy and one-dimensional when I tried wearing them back home. They were still beautiful, but they required a certain mood or an occasion, and for this reason I wore them much less often than I anticipated. Similarly, Middle Eastern inspired fragrances like Montale and SoOud were compelling in theory, but in practice I rarely craved them. When Guerlain announced its Les Déserts d'Orient collection, comprised of Rose Nacrée du Désert, Songe d'Un Bois d'Été, and Encens Mythique d'Orient, I was worried that it might be overly glitzy and flamboyant for me.
The most flamboyant element of Encens Mythique d'Orient is its name–Oriental Mythical Incense, but the perfume itself is refined and polished. Even a hefty dose of raunchy animalic notes, which smell like soft suede and salty skin, doesn't disturb the glamorous aura. On the contrary, it adds a sensual, teasing element, like a brief glimpse of cleavage under a crisp white shirt. Those who are looking for the dramatic elan of classical Middle Eastern perfumes might be disappointed, but as Gaia noted in her review, Guerlain brings its own French idea of glamour to this collection.
The first whiff of Encens Mythique d'Orient was puzzling. A metallic fizz of aldehydes over the peppery roses was unexpectedly retro. It reminded of vintage perfumes I used to collect with passion–Chanel No 22, Caron Or et Noir, Jean Patou Ma Collection. As the perfume settled, it became sweet and warmer. The jasmine wrapped its tendrils over the dark rose petals; the incense tempered the creamy richness of musk. A raspy woody note further cuts through the heft of the animalic notes.
Another surprising thing about Encens Mythique d'Orient is its incense note. A delicate swirl appears here and there, among rose petals and sandalwood shavings, but it's a fresh, sparkling accent that smells more like crushed peppercorns than dark church incense. When the perfume settles into its buttery animalic drydown, the incense merely lights up the heavy layers.
Encens Mythique d'Orient shares a bloodline with Nahéma, that bombshell rose ornamented heavily with ylang-ylang, sandalwood and plums. Encens Mythique d'Orient has much less rose than Nahéma, and the musk, ambergris and leather play a more important role.  Nahéma feels like brocade, while Encens Mythique d'Orient wears like a soft suede jacket. It's a gorgeous perfume, luxurious in the sense of older classics. You can wear it to daydream and to fantasize about being in some other time or place, but it won't feel like a period costume.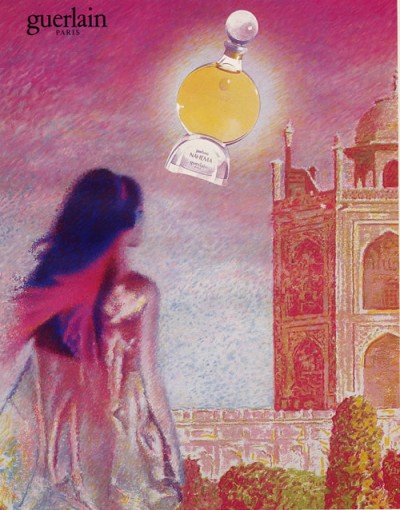 Guerlain Encens Mythique d'Orient is available at the Paris Guerlain flagship store, Haute Parfumerie Place Vendôme in Belgium as well as Harrods and Selfridges in London. Since Les Déserts d'Orient perfumes were originally created for the Middle Eastern market, the fragrances are also sold in the United Arab Emirates, Saudia Arabia, Kuwait and other Middle Eastern locations. 75ml, 190 euros.