The airplane landed with a slight bump on the tarmac in Florence, and I stepped out into the Italian summer of swaying palm trees, blue skies, and soft, but naughty breeze that kept trying to lift my skirt. Belgium is only a few hours away from Italy, but culturally it might as well be on a different planet. The rainy Belgian autumn was behind me. I checked into my hotel, turned off my cell phone and went out to walk along the Arno. Perhaps, it's a sign of my fragile emotional state over the past few months, but as I ate my pistachio gelato, I felt something close to absolute happiness.
The last time I visited Florence was almost 10 years ago, and while I have grown obviously older, she is still the same–voluptuous, ravishing, beautiful to the point of overwhelming. How could such simple things be so perfect, I kept wondering as I smelled the late summer roses blooming in profusion inside enclosed gardens or bit into the golden biscotti perfumed with anise and orange zest. A few days later I was back in Brussels, walking through the park and kicking tawny chestnuts with the tip of my boot. I missed the languid beauty of Italy. I may not have been able to infuse Brussels with the generous Italian sun, but I could conjure up Italian scents and tastes in my own home.
Thankfully, some tastes of Italy are easy enough to recreate. These days when the dusk falls earlier and the rain wraps the whole city in its chilly embrace, I've become addicted to biscotti. But I don't mean those ubiquitous cookies that are sold at every coffee shop and that are not edible unless dipped into coffee or tea. My favorite biscotti recipe makes for a crunchy and fragrant mouthful. I perfume the dough with a heady blend of cardamom, citrus zest and vanilla. The idea of adding cardamom may not seem Italian, but its lemony bite marries so well with citrus that if you haven't tried this combination, I can't recommend it highly enough. Plus, cardamom has a natural affinity with coffee, and if you do decide to dip these biscotti into your latte, you will see how harmonious the taste will be.
The shops in Florence sell a wide selection of biscotti, or as they are called more commonly in Tuscany, cantuccini (little corners). The cookies originate in the city of Prato, and while they are mentioned as early as the 18th century, the classical biscotti di Prato that have inspired those hardtack versions sold by Starbucks can be traced to the baker Antonio Mattei. In 1867 Mattei even won a prize for his confections at the Expositions Universelles in Paris. Or so the story goes as told at his shop, which still sells the famous cookies.
Biscotti are traditionally dipped into Vin Santo, Tuscan sweet wine, and most restaurants offer cantuccini con Vin Santo as a dessert course. They are great as an accompaniment to tea, coffee, fruit compotes or ice cream. Or try them with red wine.
Hazelnut Biscotti Scented with Cardamom and Orange
My recipe is adapted from the one published by the official site for the city of Prato. The biscotti come out softer than commercial versions, which are usually made with baker's ammonia, rather than baking powder. Ammonia gives them a crunchier, drier texture, but since the homemade variety isn't meant to last for weeks and weeks, I don't think that it makes a crucial difference. This basic recipe can be adapted for our flavors and nuts. Try the classical combination of almonds, anise seed and lemon, macadamia and vanilla or walnuts, vanilla and cinnamon.
Yield 60 cookies
2 cups (250g) all-purpose flour
1 cup + 2 Tablespoons (125g) sugar
1/2 teaspoon baking powder
1/4 teaspoon salt
5 tablespoons (75g) unsalted butter, softened
2 large eggs (and one extra egg for glazing)
zest of one orange
1/4 teaspoon ground cardamom seeds
1/2 teaspoon vanilla extract
1 cup (100g) hazelnuts
Preheat the oven to 350ºF (175ºC.) Toast hazelnuts for 20 minutes or until they are pale golden and rub them with a towel to remove some of the skins. Don't worry if the skin comes off only partially. Let them cool.
Stir flour, sugar, baking powder and salt together in a large bowl. Rub butter into the flour with your fingers until the mixture looks grainy.
Mix 2 eggs, orange zest, vanilla extract, and ground cardamom into the flour mixture and stir till the dough starts forming. It will be soft and pliable, but it should not be sticky. Be careful not to overwork the dough and stop once you have a rough lump.
Add hazelnuts and mix them into the dough. By the time you're done, there should be no traces of flour. Divide the dough into two pieces and transfer it onto a baking sheet lined with parchment paper or a silicone baking mat. Pat the dough into two cylinders about 3 inches in diameter and 15 to 20 inches long. Brush with the reserved egg.
Bake until golden brown, about 25 minutes. Remove from oven, and cut diagonally into slices about 1 inch wide. Turn the oven down to 250F (120C). Place the biscotti cut-side down and return to oven to bake for another 10 minutes, or until they are golden brown. Turn biscotti over and bake for another 10 minutes. They should be firm and golden brown on both sides.
Stored in an airtight container, the biscotti keep for two-three weeks.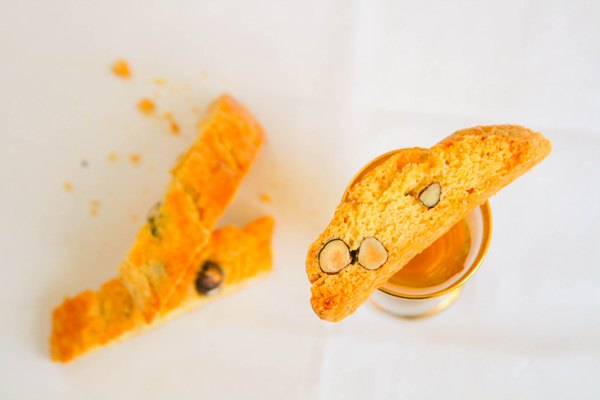 Photography by Bois de Jasmin