What can one expect from a fragrance inspired by Billie Holiday's gardenia, called Une Voix Noire (Black Voice) and created by the dream team of Serge Lutens and Christopher Sheldrake? Heady, dark, convoluted, perhaps? Well, Une Voix Noire is none of these things. It has a surprising combination of softness and warmth. Its presence is generous, but it's not overwhelming. It's dramatic without being heady or dense. Une Voix Noire feels velvety the moment you put it on, and it gracefully moves from one stage to another. Frankly, if Lutens said that he was inspired by ballerina Maya Plisetskaya's Black Swan, rather than by Lady Day, I would have believed him.
I admit that this Lutens wasn't love at first inhale the way Bois de Violette or De Profundis have been for me.  I anticipated the heady, the dark and the bittersweet, and I missed them in this soft perfume.  Nevertheless, I'm glad that I went along for the ride, because Une Voix Noire forced me to take our courtship slowly and to fall in love with it one layer at a time.
And layers are what Une Voix Noire is all about. The first impression is of crushed strawberries and lots of green jasmine, but these accords are transparent enough to see the rich base notes of tobacco, vanilla and musk. The gardenia, which is creamy and mellow at first and later indolic and honeyed, is a constant backdrop. At one point, it's laced with rose, but at another with violet. It ends up soaked with iris and sweet tobacco.
Une Voix Noire is not a heady big white floral like Tom Ford Velvet Gardenia or Frédéric Malle Carnal Flower. There is nothing of the dewy, fresh blossom about it, and although the gardenia impression is obvious, it's a flower on the brink of turning brown. It smells caramelized and woody, with a lingering sweetness that makes me think of chestnut honey and gingerbread. In terms of its character and diffusion, Une Voix Noire reminds me of Rose de Nuit and El Attarine. It doesn't smell like those perfumes, but it has a similar combination of richness and transparency. For men who like their fragrances with an unusual twist, Une Voix Noire is worth sampling.
Does Une Voix Noire make me think of Billie Holiday? Yes and no. When I hear her "Blue Moon," I see myself in my tiny university apartment as I sit on the windowsill, toasting a brick wall across the street with a glass of wine. "And when I looked the moon had turned to gold," sings Billie, and I feel as if I'm seeing that same moon turning gold. Billie Holiday's voice captures her pain, her sorrow, her passion; its intensity is unsettling.
But Une Voix Noire is sweet-tempered and tender. It has moderate tenacity on my skin–I wish I could turn up the volume slightly! The perfume wraps me in its mellow embrace, and it feels comforting and relaxing. Then again, can there be anything more languid than Holiday singing "Easy Living"?
What sways me the most about Une Voix Noire is its ability to weave a story. It's unpredictable, yes, but every element of this perfume is compelling and beautiful. It's a blossom that spent most of its life on someone's corsage, rather than on a branch in the garden. Press your nose to your skin in the late drydown, and you will notice a metallic note. Might it be coming from the pin that holds the flower in place? Inhale deeper, and you will discover a hint of salty, warm skin. "I looked for every loveliness; it all came true," I want to repeat after Holiday.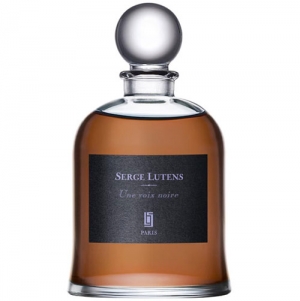 Serge Lutens Une Voix Noire Eau de Parfum is part of a Paris exclusive collection. It is now available via sergelutens.com, 75ml is 130 euros.
Sample: my own acquisition