I love those moments when I catch a whiff of something beautiful and it turns out to be my own perfume. Kenzo Jungle L'Éléphant doesn't unroll like a neat scroll; it undulates like ripples on water. Suddenly you find yourself catching a wave of scent–cardamom stewed plums,  smoky woods and dried orange peel, and it feels so unexpected and delightful.
Those who know Kenzo from their latest tame releases–Amour, Madly, and the like, will be surprised by Jungle L'Éléphant. It smells like something that should be called "Noir," "niche", and "exclusive". Instead, Jungle L'Éléphant is available at Sephora* and online discounters. In 1996 when Jungle L'Éléphant was launched, Kenzo wasn't the dull mainstream house that it is today, and this perfume is a great example of their previously bold and exotic aesthetic.
Jungle L'Éléphant was created by perfumers who between the two of them are responsible for a dozen legendary creations. Dominique Ropion made a splash with Givenchy Ysatis and Amarige, while Jean-Louis Sieuzac's Yves Saint Laurent Opium still defines spicy oriental perfumes. Their Kenzo collaboration is bold, sensual, but also playful. At first, you will be whisked to a spice market where you will be dazzled by the scents of cardamom and cinnamon. Before long, you're in a pastry shop admiring glazed fruits filled with marzipan and pistachio baklava. Thus satisfied, you end up in a hammam (bathhouse) scented with sandalwood and amber incense.
This sensory kaleidoscope makes Jungle L'Éléphant sound heavy and dense, but it's far from it. It has plenty of radiance, and the opulent notes are contrasted with the tart mandarin zest and sheer jasmine.  The exotic, fairytale like aura that I find so enchanting about Jungle L'Éléphant doesn't come at the expense of elegance and harmony.  I find it easier to wear than Serge Lutens Arabie or Estée Lauder Cinnabar and just as distinctive. Fans of Chanel Coco, Fendi Theorema, and of spicy woods in general, should give Jungle L'Éléphant a chance.
A year after Jungle was launched, Kenzo presented a new variation called Le Tigre. That's why Jungle eventually became known as Jungle L'Éléphant to differentiate it from its feline companion.  Le Tigre was softer and milder than L'Éléphant, and it liberally garnished its milky sandalwood with notes of apricot and osmanthus. It was attractive, but it lacked the drama of L'Éléphant, and today it's no longer produced.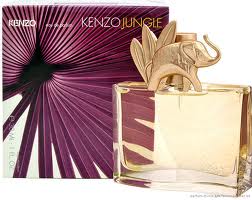 *Kenzo Jungle L'Éléphant includes notes of mandarin, cardamom, cumin, ylang-ylang, clove, heliotrope, licorice, mango, cashmeran, patchouli, amber, and vanilla. It's available at Sephora and similar perfume stores in Europe, while in the US, your best bet is to look for it on Ebay or online discounters. It's worth a search.
Image: Kerala Backwaters at Dusk, India, photography by Bois de Jasmin