It should come as no surprise that Nicole, the debut fragrance from reality-star fashion icon Nicole Richie is—gasp!—a "fruitchouli."  The Nicole perfume, which debuted in September in 2000 doors nationwide, features notes " juicy blackberries and oranges from Seville, which are followed by golden amber, Moroccan rose, lily of the valley and papyrus, layered over the base of cashmere, sandalwood, sugared patchouli and vanilla absolute." The nose behind the fragrance is Steve DeMercado, who also authored Paris Hilton's eponymous scent as well as mall blockbusters like Marc Jacobs for Women.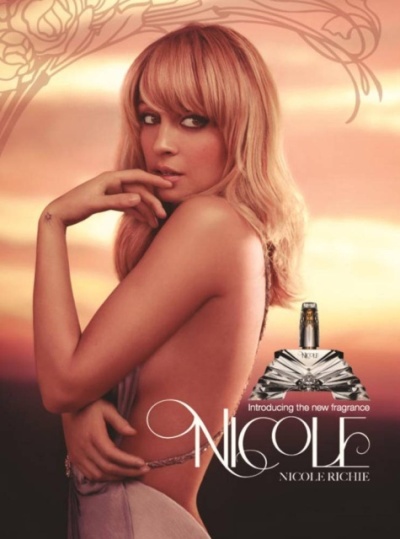 According to Ms. Richie, the scent is meant to evoke her mother, who layered oil and perfume over lotion and created more than just a "one-dimensional smell." The smell that one gets, however, leads one to contemplate how involved any particular celebrity is with the creation of their namesake fragrances.  While Sarah Jessica Parker was intimately involved with the creation of Lovely, or at least tried to steer it into darker territories, one wonders about Nicole or whether Nicole was herself steered by market trends.
If Nicole is meant to be a perfume biography of her mother's elaborate scenting ritual, much as Parker's Lovely was meant to be corollary to her own personal blend of perfumes, then I suppose Nicole's mother started out by applying a fruity lotion of the type sold by Philosophy and then layered onto this patchouli, amber, and vanilla.  To be honest, I didn't mind the fragrance. It was mellow enough and until the sugary facets came into play I enjoyed the citrus and patchouli blend.
After a strong fizz of the orange I got mostly soft amber, stroked probably by the cashmere and no floral notes to speak of.  I was curious about the papyrus note since it can give a crisp dryness to an otherwise juicy blend, but it didn't appear.  Nicole gets cheated out of much of a base, too, since it nearly vanishes by the time you'd be able to smell any sandalwood.
I tried applying it twice, a couple of hours apart, and got from this the experience of a skin scent.  I then forgot I had it on. Like fame, Nicole the fragrance is fleeting.  I will damn with faint praise by saying it is "nice" in an objective manner relative to other fruitchoulis. It isn't a blockbuster like Thierry Mugler Angel or like Calvin Klein Euphoria, and it doesn't smell too cheap, but the juice is blandly wearable. It is the third celebrity release in two months, following Lady Gaga Fame and Nikki Minaj, but without the big roll-out of either.  Its success will probably depend on the allure of its creator and not on its technical qualities or on its actual smell.
Sample: PR