If I feel particularly tired at the end of a day and I don't have time for my usual de-stressing rituals–a bath, an hour with a cup of tea and a favorite book, I burn some incense. I store the joss sticks in a large box that after several years of being used as an incense receptacle smells of sandalwood, oud and spices. As I watch the slender sticks turn to pale grey ash and inhale the rich aroma, my worries seem less important.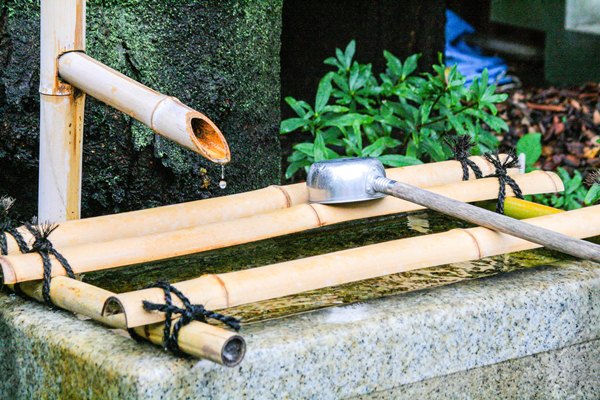 When I want the incense to linger on my skin, I reach for my favorite incense fragrances–dry and woody Donna Karan Black Cashmere, bright and fresh Atelier Cologne Bois Blonds, or Comme des Garçons Kyoto. Kyoto, created by perfumer Bertrand Duchaufour, is a part of Series 3 Incense, which was launched in 2002.  Avignon took us to France, Ouarzazate to Morocco, Zagorsk to Russia,  Jailsamer to India, and finally, Kyoto to Japan.
I've worn Kyoto for the past five years, and I still haven't tired of the journey on which it takes me. In contrast to the sweet and opulent Indian incense, Japanese incense is a symphony of woods, with a delicate accent of star anise and patchouli. It smells dry and effervescent, and even the sweetest blends retain a crisp, bright quality.
In Kyoto, Duchaufour chose to explore the contrast between the woods and incense by searing them with a toasty, nutty coffee. At first, it smells cool and smooth, reminiscent more of a tactile sensation–my fingertips gliding over smooth stones–rather than a particular scent. The elegant way in which incense makes its appearance is fascinating. One moment the fragrance smells like cedarwood shavings, and the next you distinctly smell the smoky, peppery darkness of incense, as if someone waved a burning joss stick around you.
As the fragrance lives longer on skin, its fresh woods turn darker and earthier. The caramelized sweetness of coffee is an accent, but it gives Kyoto more complexity. Despite its rich materials, Kyoto is vivid and radiant, reminding me more of L'Artisan Timbuktu–another Duchaufour creation–than of heavier incense blends like Avignon.
I think of Kyoto as a warm and cozy wrap, up there with the sexy Yves Saint Laurent Nu, Tom Ford Jardin Noir Cafe Rose, and Costes Eau de Toilette. Kyoto lingers well on skin, but especially so on fabrics. To add a touch of exotic to the grey Belgian winters, I sometimes use it to scent my scarves, so that I can enjoy its delicious, toasty presence as I make my way down the rain streaked streets.
Comme des Garçons Kyoto (Series 3 Incense) includes notes of incense, cypress oil, coffee, teak wood, vetiver, patchouli, amber, everlasting flower, and Virginian cedar.
Photography (top image) by Bois de Jasmin