An announcer on the Belgian weather channel–wearing sparkling eye makeup and a deep-cut sweater–says with a pout, "Le temps est exécrable" (The weather is awful). There are several ways to deal with Belgium's dreary weather–to complain, to approach it with a sense of humor, or to ignore it. Belgians are good sports about it, and on any given day, as long as it's not raining, the outdoor seating at cafes is full, regardless of the chill.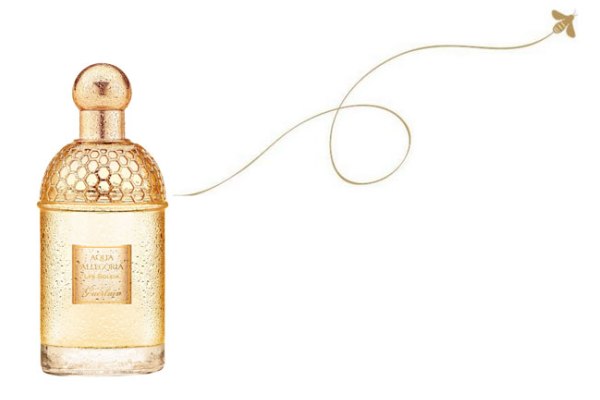 I don't fancy eating dinner in 40F weather outdoors, but I have my own ways to add a splash of sunshine to a grey, overcast day. Over the years, I've cultivated a little winter perfume wardrobe to which I add a new favorite from time to time. Last year, Guerlain Lys Soleia from its Aqua Allegoria collection became my cold weather staple. As its name promises, it's sunny and bubbly.
Lys Soleia is also quite sophisticated for a simple floral bouquet. When you first put it on, you notice a rush of green leaves and white petals. It's lacy and pretty, but a rich twist of ylang-ylang makes Lys Soleia more interesting. Ylang-ylang smells like minty jasmine and green banana peels, and it has a tropical, balmy character. What a perfect choice to make flower petals feel as warm as a cashmere wrap!
A dollop of vanilla further warms up Lys Soleia, and in the final stages of the perfume, it's especially prominent. A whisper of woods and musk play up the sweetness of vanilla, but it never enters tooth-achingly sweet territory. Instead, Lys Soleia smells like sun-warmed skin rubbed with tropical monoi oil, minus the heavy coconut. To amplify this sensation, I sometimes mix a few drops of the perfume into a rich body cream.
I surprised myself by how much I loved Lys Soleia and its uncomplicated but happy character. Recently, I revisited Serge Lutens Un Lys, another favorite, and I recognized some of the same elements in Guerlain. Lys Soleia is crisper and brighter, but like Un Lys, it is a great antidote for the winter blues. It even rivals–if only on the price point–the sheer lilies like Hermèssence Vanille Galante and Frédéric Malle Lys Méditerranée. If your winter is as long as mine, you might as well be well-prepared.
Guerlain Aqua Allegoria Lys Soleia includes notes of bergamot, lemon, lily, ylang-ylang, musk, and vanilla. Available at Sephora and all department stores with Guerlain counters. 75ml/$61