This year Estée Lauder's first fragrance, Youth Dew, will celebrate its 60th anniversary.  Originally conceived as perfumed bath oil, it is the dowager empress of the Lauder fragrance counter, still selling briskly despite its late middle age. So formidable is it that if you only try it once every ten years, you will recognize it.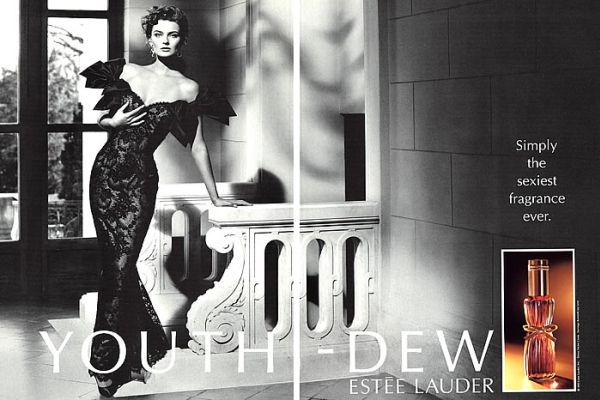 Youth Dew has always been a thick and nearly viscous brew. Lauder perfumes contain sumptuous amounts of perfume oil and nowhere is this illustrated as plainly as in Youth Dew, whose 30% dosage leaves a sheen on the skin.  In today's terms, Youth Dew is retro in the same way Opium is retro; they are both heavily spiced and heavy-lidded Orientals of a type no longer in trend. As with Opium, Youth Dew is crazily ripe with orange top notes and aldehydes bursting over its clove and cinnamon heart.
The given notes indicate that mimosa, rose, ylang-ylang, orchid, and jasmine are writhing around in there somewhere, but I don't smell them without effort.  They are too rich, almost, to be smelled.  The truth is that I generously sprayed myself with two short bursts of Youth Dew and then was afraid to put nose to wrist for several hours afterwards.  Instead, I walked around the local mall sharing Youth Dew's extravagant sillage with every other shopper within smelling distance.  Two sprays! Try that with a watery fruity floral or laundry musk.
The frontal attack of Youth Dew is such that I would probably recommend dabbing it on, or spraying it in the air, waiting a second, and then walking through it so that a mist of Youth Dew settles over the wearer.  This is the sensible way to apply any strong perfume, unless one wants to wait half a day to leave the house. Youth Dew is explosive, but it has something new releases do not:  grandeur.  It is as commanding a scent as you are likely to find, and it hails from an era of perfumery we will not see the likes of again.
You might wonder how the modern Youth Dew compares to what Mrs. Lauder herself selected from the versions perfumer Josephine Catapano presented to her. Youth Dew used to have civet in the base that is no longer there.  The vintage was hot and animalic but not to any degree greater than other perfumes of its era.  Today's Youth Dew is more leathery, with the leather appearing early on and softening over the great span of its wear.  The scent is a sonic boom of spices, followed by leather and a suave amber drydown that must be experienced rather than talked about. One must not merely like, but love clove in order to approach it.
In the past, I wore Youth Dew as the bath oil only, and I am strongly leaning in that direction again.  A few drops of Youth Dew in the bath is indescribably luxurious, the type of luxury that has been lost today.  Used this way, Youth Dew can be a gentle perfume of a calmer, less aggressive nature.  It's beautiful worn that way, as a trace olfactory element to be smelled only by those closest to you.  I know this is not what the formidable Estée Lauder intended, but times have changed.  Youth Dew can be the most seductive perfume when played out against the secret of one's own chemistry and its subtle magic.  I know, because I've experienced it myself.
Estée Lauder Youth Dew includes notes of orange, bergamot, peach, aldehydes, clove, cinnamon, mimosa, rose, ylang-ylang, orchid, jasmine, frankincense, amber, vanilla, tolu, benzoin, oakmoss, musk, patchouli, vetiver. Available at all Lauder counters.
What do you think of Youth Dew?