Victoria's Note: Today Daisy Bow will take us through the Art of Scent Exhibit at the Museum of Art and Design in New York. You may know Daisy from her comments here and from her fun blog, Cool Cook Style. Daisy recently completed her doctoral degree in French Literature from New York University, and she is currently teaching a course on French Food and Culture as part-time faculty at the New School. Her love affair with perfume began with Dune at the tender age of 14. She has smelled great ever since. 
"Scent can do what all art does: change the way we perceive the world," says Chandler Burr, the director of the olfactory art department at the Museum of Art and Design. According to him, the fundamental concept for The Art of Scent exhibit, its layout, and its chronological organization has its genesis in a talk that he gave in 2008 at The Times Center when he was still the scent critic for the newspaper. For the sold-out event, individual blotters for each of the 15 different fragrances chosen were provided to over 400 guests. As the runners did their work, Burr played a piece of music that was also representative of the style of the scent distributed. Each work was accompanied by visual presentations of painting, sculpture, and architecture too.
Since its opening in New York, much of the discussion on The Art of Scent has focused on how Burr uses different artistic movements and schools to talk about different works of olfactory art. Burr emphasizes that "none of these analogies are exact." The parallels drawn between scent and other mediums exist to provide us an intellectual tool with which to talk about it as art. "I want to place scent as an artistic medium in the center of all the arts: music, dance, literature, painting, and sculpture. [Scent is] just one medium. Each medium is different. Some of them used certain schools and some of them didn't. For example, Romanticism from roughly 1800-1840 was ascendant in literature, poetry, and painting. However Romanticism in music was in the late 1800's. [Alfred] Einstein, the great cataloguer of music, takes the Romantic period up to 1940. Not every medium used it at the same time," Burr explains.
Not only is The Art of Scent crafted to provide a context in which to see how each work is representative of a style or a movement, the show is also a push towards making us more conscious of the language we use when we talk about scent. Burr is very careful about his words. Perfumes, for example, are works of olfactory art — or more simply works of art. Perfumers become olfactory artists.
"The reason I'm doing this," Burr says, "is for us to be able to apply this incredibly rich, highly developed, argued over, thought over, constructed, reconstructed, and continually evolving language of art history and aesthetics. It's a language like any other. It has strengths and flaws, but it is a language developed to allow us to look at works of art, which these are."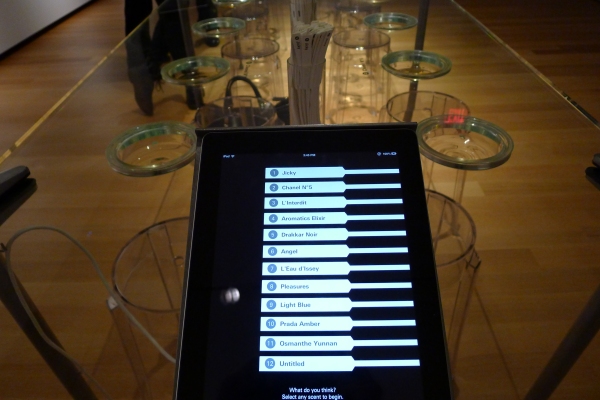 Organized around 12 scents, the exhibition moves from 1889 to 2012 and charts a trajectory from Romanticism to Post-Brutalism. The selection of Jicky for the first scent in the chronology is to show the point where the introduction of synthetic raw materials allowed olfactory artists to break with the perfumery of the past. Liberated from the limitations of an exclusively natural palette, these visionaries were able to transcend and transform scent from works of artisanship to works of art.
The exhibition, designed by the architectural team of Diller Scofidio + Renfro, is divided into two rooms: a white and spare main gallery in which you place your head in indentations in the walls to smell the scents. These "dimples" isolate you from outside distractions as a diffuser element emits a puff of air when it senses you are close. The focus of second room is a long glass table in which each scent is found in liquid form. Blotters are provided for you, as well as the presence of a trained museum staff member to help facilitate your visit. These staff members also provide you iPads programmed with various descriptors that you can select to be projected onto the far wall.
These descriptors, Burr points out, are antithetical to his curatorial intent. Their inclusion reveals how complicated it is to mount any major museum exhibition.
Perhaps the most fascinating part of the exhibit for me was the presentation of five mods for Trésor, created by Sophia Grojsman in 1990. The story of the scent is "encapsulated" in 5 cards that you can take with you. Moving from Mod 1 to Mod 5, the final version of Trésor, you can reflect on the final scent's development. According to Burr, it was actually Mod 4 that attracted the attention of Lancôme when Grojsman, who was only experimenting with it as something for herself, wore it to a meeting. The Mods 1-3 were developed by Grojsman to help to create a story for the exhibition through accords.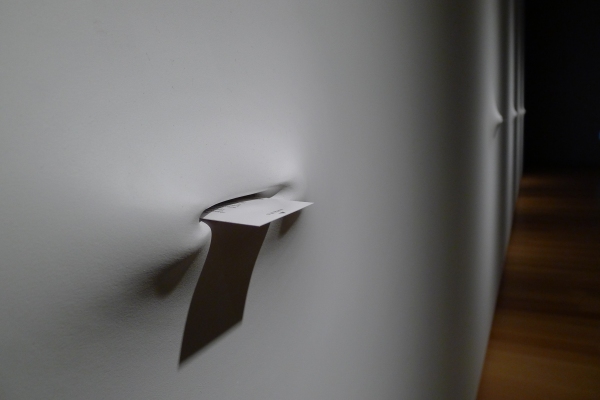 I would not hesitate to recommend seeing the show (even more than once) before it closes on March 3. The Art of Scent presents a good opportunity to smell great fragrances, reflect on what makes them great, see how they fit into an art historical timeline, and understand how each work can be taken as representative of a specific school or artistic movement. Since talk of its creation, The Art of Scent has elicited a tremendous amount of dialogue about perfumery, perfume, and perfume as art, as well as provided a subject for debate over the scents chosen for the exhibition. The show has definitely gotten people talking and thinking about perfume. In this sense, it has been very successful.
The Art of Scent is on display at the Museum of Art and Design located at 2 Columbus Circle in New York City until March 3. More information on the show and the museum can be found here.
If you have visited the exhibit, I would love to hear your thoughts.
Photography by Daisy Bow