When I think of orange, I usually think of desserts–a long curl of zest steeped in milk for rice pudding, a dash on top of bitter chocolate mousse or whipped into poundcake batter. By sweetening the orange, you highlight its floral, honeyed nuance, but what happens if you add a dash of salt instead? The effect is explosive. Salt volatilizes aromatic components, and the orange aroma becomes even more saturated. Moreover, its zesty flavor marries so well with savory notes that it's fun to explore different combinations.
One of my favorite piquant combinations with orange is a Korean inspired dry rub for fish. Garlic, scallions, ginger, sesame and chili pepper are used with dazzling effect in Korean cooking, giving it a distinctive flavor–earthy and aromatic, nutty and spicy. I haven't encountered orange in Korean dishes, but its sweet perfume is a harmonious touch. It brings out the citrusy nuances of ginger and softens the toasty richness of sesame. Because of their acidity, oranges are also excellent with fish, and voilà, here is my creation.
The choice of fish is up to you. You can use whole fish as I do in the recipe below or fillets. You can select trout or salmon. If you like fish like sardines and mackerel, garlic and orange will tone down the strong flavors. Another reason I love this combination is purely visual–the orange, white, red and green confetti looks festive.
It's a straightforward dish to put together: chop the aromatic ingredients, stuff the fish, set it aside for the flavors to meld and bake it. You can also use a food processor to chop the ingredients, which makes the prep even easier. Alternatively, fish can be stuffed and marinated the night before.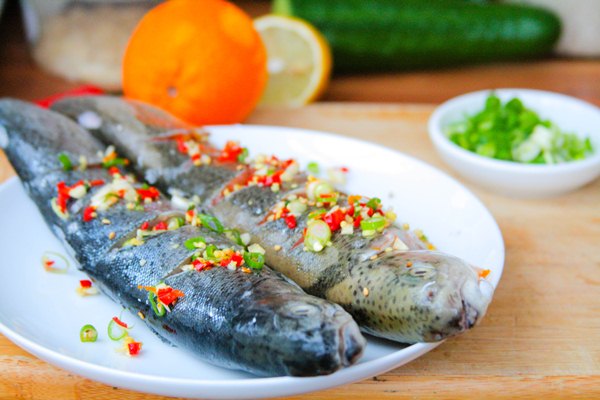 Orange Trout with Garlic, Ginger, and Sesame
You can also use fish fillets instead of whole trout (be sure to adjust the baking time). I like to serve this aromatic trout with rice, a side dish of sauteed or roasted vegetables and green salad. If you have any leftovers, try it cold stuffed into a pita pocket, along with crunchy romaine lettuce, a  few onion rings, and tomato slices.
Serves 4
4 whole trout, boned and butterflied
Salt and freshly ground pepper
3 Tablespoons olive oil or mild vegetable oil
4 garlic cloves, minced
2 scallions, finely chopped
1″ piece of ginger root, peeled and minced
1 to 2 hot red chilies, minced (optional)
1 Tablespoon sesame seeds, lightly toasted
1 whole orange
1. Preheat the oven to 425 F/220 C. Oil a baking dish large enough to hold all the fish. Open the trout and season the inside liberally with salt and pepper.
2. Grate the orange zest. Mix it into the minced garlic, scallions, ginger, chilies, and sesame seeds, along with 2 Tablespoons of olive oil. Stuff some of the fragrant mixture inside the fish. Then cut slashes into the fish (both sides) at 1″ intervals and stuff the garlic-orange mixture into the slits. Set aside in the fridge for 30 minutes to 2 hours (or prepare everything the night before).
3. Cut the orange into rounds and layer on a baking sheet. Arrange the fish in a single layer on top of the orange slices–this will prevent the fish from sticking and will infuse it further with orange scent.  Season the fish with salt and pepper and drizzle with extra olive oil and a little bit of orange juice. Bake 10 to 15 minutes until the fish pulls apart easily when poked with a fork. Enjoy!
Photography by Bois de Jasmin